Business Translation Services

We Translate Business Documents
With the rise of the global market economy, more organizations are operating across national borders. That's when they often encounter the language barrier. Without effective business translations, deals cannot be closed, new products will not attract their target demographics, and many other difficulties can arise. In today's business environment, a reliable business translator should business translate your content. Business document translation may be the difference between success and failure.
Our company is a Certified Women's Owned Business:
One of the main studies from McKinsey & Co states that by 2025 more than 45 of the world economy will come from emerging markets. Factors like these mean it is a must for your company to go global:
Emerging markets changing how the world does business
Source of low-cost increasingly skilled labor
The growing number of large companies in emerging markets
Still, according to McKinsey, these are the three imperatives for business leaders of global companies: (1) Optimize sales networks, (2) Understand how customers and competitors are evolving, and (3) Reconsider the headquarters configuration and the location of other core activities.
Free Quote
sales@thetranslationcompany.com
1.800.725.6498
Receive a quote today!
How a business translator helps you reach each of these goals:
Increase sales network: translating marketing brochures and sales material is no longer enough. An orchestrated effort to keep all the material generated by headquarters translated near real-time is necessary. Translation technologies and long-time translation contracts are a must to free your company to do their business.
Understand how customers and competitors are evolving: if local up-and-coming hubs in Brazil and China may be changing the future of business, you must speak their language. Remember that most people in such countries do not speak fluent English. Business translate your content will provide better communication support for this required integration.
Operate locally: this means letting go of the attachment to the English language. The translation should not be just an ad-hoc need. Translation services are becoming an increasing strategic tool.
We can translate for business:
Getting Down To Business
If you are looking for a reliable business language translation, look no further. The Translation Company can provide your business or organization with fast and accurate translations at competitive rates. Our staff follows stringent guidelines and procedures to ensure that industry standards of quality are upheld in every translation we complete.
Our process remains flexible enough to accommodate any special needs, from certification to a rapidly approaching deadline. We can work within your time frame to business translate your content according to your requirements. We also employ a quality review process following the completion of your translation. This helps ensure that the final document we produce represents the best translation possible.
Our expert business translators are some of the most qualified in the translation industry. We choose our translators based on their linguistic skills, education, work experience, and past performance. Because we draw from a large pool of expert translators, we can assign your project to someone familiar with your project's specifics. Their expertise helps create a more accurate translation of your document.
So, what are you waiting for? If you need to know more about our professional business English translation services, contact us for a free quote today!
Free Quote
sales@thetranslationcompany.com
1.800.725.6498
Receive a quote today!
Business Document Translation
We can handle business documents from a plethora of specialty fields within the business translation. Translate for business:
Accounting
Advertising
Banking
Business
Commerce

Finance
Human Resources
Intellectual Property
International Trade

Marketing
Mass Media
Project Management
Real Estate
Strategic Management
Also, our professional business translators can handle almost any business document. Some of the projects we have business translated in the past include:
Articles
Brochures
Business Plans
Business Proposals
Business Reports

Guides
Instructions
Market Plans
Manuals
Presentations

Reference Documents
Release Notes
Technical Papers
Training Materials
Tutorials
Your success in global markets is the main goal for us, and our business translators will go the extra mile to business translate on your schedule.
Free Quote
sales@thetranslationcompany.com
1.800.725.6498
Get a Quote Today!
Privacy & Confidentiality
Our business document translation services are protected under our privacy guidelines and security policies. Our confidentiality terms say our business translators cannot reproduce or share any information from a client. We can even provide a non-disclosure agreement (NDA).
And remember! We are a corporate member of the ATA - American Translators Association.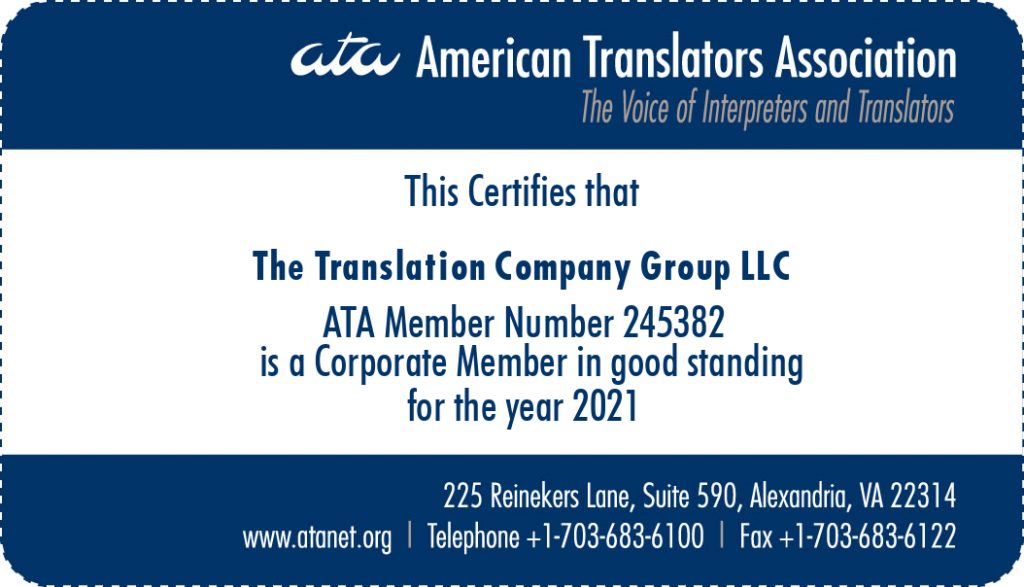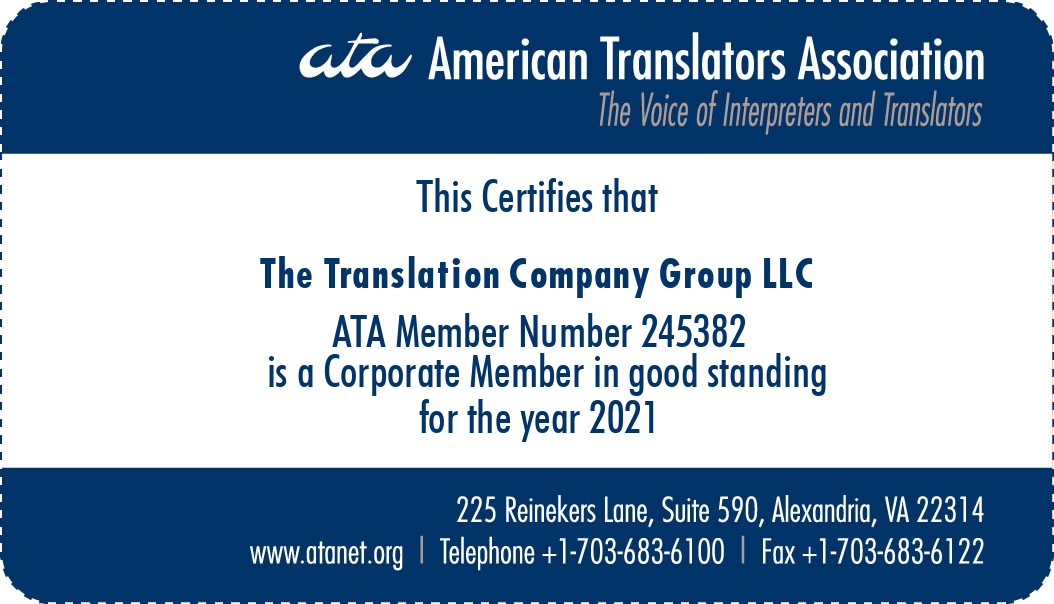 Get Your Fast Quote Today – Business Translate your Content!
If you would like to receive a free quotation today, visit our Free Quote page and fill out our request form. One of our Project Managers will contact you soon with a cost estimate and order form. If you have additional questions on our business document translation, please contact us now.

Business Translate with a
100% Satisfaction Guarantee!