Your Premier WBENC and WOSB-Certified Translation Services Provider
Are you searching for a translation services provider that is certified by the Women's Business Enterprise National Council (WBENC)? Look no further! The Translation Company Group, led by our experienced CEO Camila Saunier, is a WBENC-certified translation company with over two decades of experience in providing professional translation services.
The WBENC certification is a testament to our commitment to promoting diversity in the business world. This certification authenticates that we are a women-owned business, enabling us to help you meet your federal and self-imposed mandates of purchasing from traditionally disadvantaged groups.
Our WBENC-Certification
Our WBENC-certified translation services encompass a wide array of industries and areas of expertise. From legal and medical translations to technical and website localization, our team of skilled translators is well-equipped to provide accurate, industry-specific translations in an efficient and timely manner.
The Translation Company Group's WBENC-certified translation services are more than just a proof of our diversity; it's a mark of quality. We are passionate about providing a platform for voices across the world, breaking down language barriers, and fostering global communication. Our dedication to quality, accuracy, and cultural sensitivity sets us apart in the translation industry.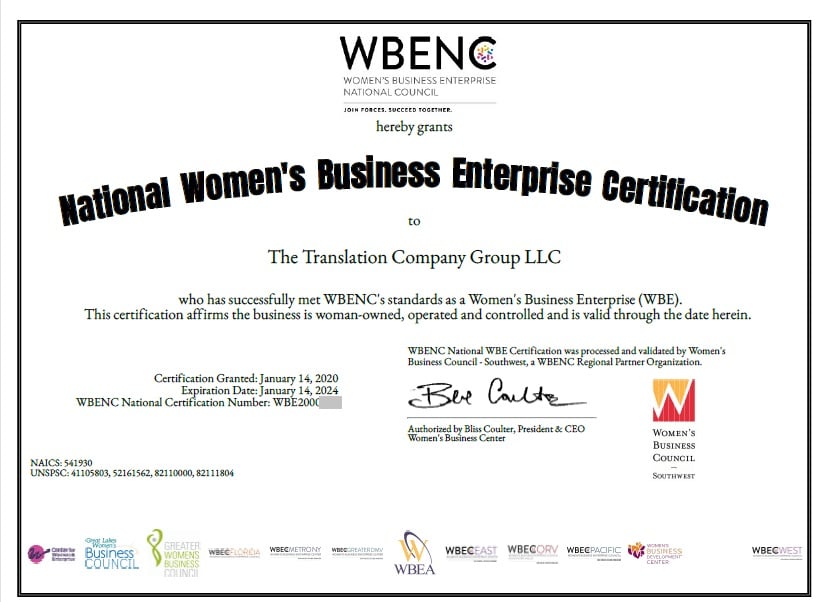 When you choose us, you're not just choosing a WBENC-certified translation company – you're choosing a partner who values diversity and inclusion, understands your unique needs, and is dedicated to helping you achieve your global communication goals.
It is not by chance that by searching for WBENC-certified translation services, women-owned translation services, translation services for government mandates, or diverse supplier translation services will find our company in major search engines. We understand the importance of a quality WBENC translation provider for a long-term business relationship.
Our WOSB-Certification
Working with The Translation Company Group, a WOSB-certified translation company, brings a multitude of advantages. As a woman-led business, we are a key diverse supplier in the industry, aligning with your diversity inclusion strategies and assisting you in meeting your diversity procurement goals.
By choosing our WOSB translation services, you not only benefit from high-quality translations but also contribute to federal objectives of engaging WOSB suppliers. This supports the federal diversity mandate, which aims to assign at least 5% of all federal contracting dollars to WOSB-certified businesses.
Our status as a WOSB vendor underlines our commitment to supplier diversity, a factor that many private corporations prioritize in their procurement policies. By opting for our WOSB services, you can meet these procurement requirements, showcasing your commitment to fostering diversity and inclusion in your business practices.
At the heart of our women's business, we are champions of diversity inclusion. We support and nurture female entrepreneurs, contributing to a more balanced business environment. The Translation Company Group is not just a minority-owned enterprise, but a hub of skilled professionals contributing to a diverse workforce.
By integrating our inclusive procurement policies, we contribute to WOSB diversity, driving economic growth, and encouraging a more diverse supply chain. Choose The Translation Company Group as your trusted translation partner, and let's work together to shape a more inclusive business landscape.
How To Get Started
Free Quote
sales@thetranslationcompany.com
800.725.6498
#1  Contact us to get a free quote or questions answered, or
#2  Upload your files for an instant translation quote, or
#3  Schedule a free Zoom meeting with our team now.
A Leader in Translation: CEO Camila Saunier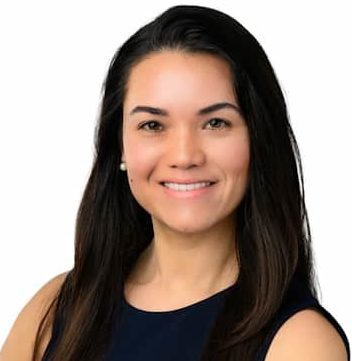 In the realm of professional translation services, a few individuals stand out, and among them is Camila Saunier. As the CEO and Co-founder of The Translation Company Group, Camila boasts over 20 years of experience in the translation industry, demonstrating not only a profound understanding of the business but also a tireless dedication to her clients and team.
Born in the heart of the Amazon in Brazil, Camila has been a global citizen since the beginning. Her journey started in education, a field that honed her people skills and gave her a unique perspective on communication and its challenges. Throughout her career, Camila has lived in numerous locations, but her heart has always resided in two places: her native Brazil and the United States, the latter being the home of The Translation Company Group.
Camila's multifaceted background makes her uniquely capable of leading our production operations. She is known for her dynamic leadership style, combining a deep understanding of the translation business with an innate people-first approach. She ensures every project we undertake is handled with meticulous attention to detail and meets the highest standards of quality and accuracy.
Away from the office, Camila is a devoted mother to three children, with a family life enriched by Bella, their family dog. Her loving marriage of over 20 years serves as a testament to her commitment and dedication, traits she carries into her professional life as well.
Beyond her business acumen and familial responsibilities, Camila has a fervent mission: assisting other women in their paths. As the leader of a WBENC-certified company, she actively contributes to empowering women in business, a testament to her firm belief in diversity and inclusion. This commitment extends to her clients, to whom she is dedicated to supporting and contributing to their missions.
Choosing to work with The Translation Company Group means choosing to work with an experienced and accomplished leader in Camila Saunier. Her deep roots in the translation industry, coupled with her dedication to her clients and her passion for empowering women, make The Translation Company Group an ideal partner for any organization seeking a WBENC-certified translation provider. By entrusting your translation needs to us, you support Camila's mission and become part of a larger movement towards a more diverse, inclusive business world.
Why Choose Us?
By choosing The Translation Company Group, you are supporting the federal and self-imposed mandates to utilize traditionally disadvantaged groups. Working with us allows you to fulfill your commitments to diversity and inclusion while receiving top-tier language services.
We understand the importance of accurate, timely translations in today's global economy. Our team is dedicated to providing a seamless, professional service that meets your unique requirements.
Our Expertise
We offer a wide range of translation services, including but not limited to:
Legal and financial translations
Website and software localization
Document translation
Our translators are not just language experts; they are also well-versed in the nuances of the industries they serve. This expertise allows us to deliver accurate, industry-specific translations that help you communicate effectively in any language.
Data Privacy, Security, and Latest Technologies

As a leading language translation company, The Translation Company Group is keenly aware of the importance of data privacy and security in our increasingly interconnected world. We uphold the highest standards of confidentiality and have robust measures in place to protect your information against hacking and unlawful disclosure.
Privacy and Data Protection
We treat all documents and data shared with us with the utmost confidentiality. Our translators and staff are bound by strict non-disclosure agreements (NDAs), ensuring that your sensitive information is handled responsibly and discretely.
On the technological front, we employ advanced data encryption techniques to protect your information from unauthorized access. Our security protocols adhere to the latest cybersecurity standards, with multiple layers of defense that include firewalls, intrusion detection systems, and regular penetration testing.
Furthermore, we follow a policy of minimal data retention, holding onto your information only for as long as necessary to complete the translation job and meet any legal obligations. Once these requirements have been fulfilled, we promptly and securely destroy all copies of your data.
Protection Against Hacking
In today's digital age, protection against hacking is a top priority. We continually invest in cutting-edge cybersecurity technologies and maintain a strong relationship with cybersecurity experts to ensure our defense systems are always ahead of potential threats.
We regularly update and patch our systems to close any security gaps that could be exploited by hackers. Regular audits are also conducted to evaluate our security infrastructure, ensuring we're not just meeting but exceeding industry standards.
Business Continuity
Business continuity is another essential aspect of our operations. In the event of unforeseen circumstances, we have a comprehensive Business Continuity Plan (BCP) in place to ensure minimal disruption to our services.
Our BCP includes measures such as offsite backups, disaster recovery solutions, and redundant systems to keep our operations running smoothly under all circumstances. In the unlikely event of a system failure or natural disaster, we are well-prepared to continue our work with little to no interruption.
At The Translation Company Group, we understand that data privacy, security, and business continuity are integral to your trust in our services. We are committed to safeguarding your data and ensuring the smooth operation of our services at all times.
Secure Access
At The Translation Company Group, we prioritize not just the quality of our services, but also the ease of accessing them. That's why we utilize Security Assertion Markup Language (SAML) and Single Sign-On (SSO) technologies for our client portal. SAML/SSO provides a seamless, user-friendly experience by allowing you to use a single set of credentials to access multiple applications. This eliminates the need for multiple logins, making it simpler and faster to access our translation services.
The advantages if the SAML/SSO technology extend beyond convenience. It improves security by reducing the risk of lost or forgotten passwords and limiting opportunities for unauthorized access. It also facilitates efficient user management, making it easier to add or remove users, change user permissions, or update security policies across multiple applications, which is a must for many of our corporate and government clients.
How To Get Started
Free Quote
sales@thetranslationcompany.com
800.725.6498
#1  Contact us to get a free quote or questions answered, or
#2  Upload your files for an instant translation quote, or
#3  Schedule a free Zoom meeting with our team now.
Diversity-Driven

At The Translation Company Group, we are proud to be a WOSB and WBENC-certified translation service provider. Our mission to promote diversity inclusion is deeply rooted in our foundation as a women-owned business, fueling our commitment to delivering top-notch language services.
As a WBE-certified organization, we emphasize the value of supplier diversity in every project we undertake. Our diverse supplier status, coupled with our dedication to quality, helps us to fulfill your diversity procurement goals while maintaining the highest standards of translation and localization services.
Our team of professional translators consists of accomplished female entrepreneurs and linguistic experts from around the world. This makes us a minority-owned entity that truly reflects the global community we serve. With our woman-led business at the forefront, we stand tall in our commitment to diversity and inclusion.
Whether you require legal, medical, technical translation, or software localization, choosing us as your WBENC or WOSB supplier means you are supporting diversity in the industry. Our team's cultural sensitivity, coupled with our diverse workforce, ensures that your message resonates perfectly with your target audience.
Our status as a WBENC and WOSB vendor is a testament to our ability to provide high-quality services while upholding our core values of diversity and inclusion. We go beyond simply being a WBENC translation provider. We aim to contribute to a business world where inclusive procurement is the norm, not the exception.
Partnering with The Translation Company Group means joining hands with a WBE translation provider that is dedicated to empowering diverse voices. Choose us for your translation needs, and let's build a more inclusive business landscape together.
How To Get Started
Free Quote
sales@thetranslationcompany.com
800.725.6498
#1  Contact us to get a free quote or questions answered, or
#2  Upload your files for an instant translation quote, or
#3  Schedule a free Zoom meeting with our team now.