Foreign Language Translation Services
Foreign language translation services can help your business on many fronts
Doing business on an international scale offers many opportunities for companies. Expanded markets are just the tip of the iceberg. Equally important are the decreased competition, longer product lifespan, and reduced downturn risks.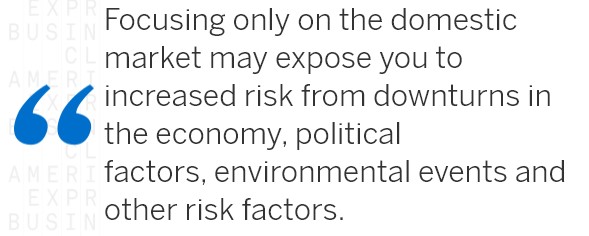 American Express: 'What are the advantages of International Trade?'
Partnering with a Translation Agency
When you decide to conduct marketing, operations, and transactions in another nation, you will need a translation provider. Most companies don't have access to the people and expertise necessary to prepare professional translations "in-house."
Once you decide to hire a provider for your translation needs, the next step is finding a reliable translation agency. Three quick questions you could ask yourself when assessing if a certain company is capable of assisting you with your translation needs:
1- Is this company a member of the American Translators Association?
2- Have they worked with other companies in my niche?
3- Do they have the resources to care for my needs in multiple languages?
After you build a short list, ask for the translation companies to provide you with a small sample translation. Have this sample translation shared with your target clientele and ask which one reads more professionally. These few steps could help you avoid bad players and select a professional translation service.
How we provide quality foreign language translations:
Recruit translators with solid education who passed examinations to become certified translators
Allocate translators based on industry niches.
Translators available in more than 200 languages
Work with translators who are native speakers in the target language
Keep a checks and balance process to edit, review and proofread our translations
Our company is a Certified Women's Owned Business:
Top Translation Agency for Foreign Languages
The Translation Company has a sterling reputation in the business world as one of the main foreign language translation service providers. Thanks to our great service, expert staff, and competitive rates, we can offer the right combination of customer service and quality translations to our clients.
The Translation Company's translators are members in good standing with the American Translators Association. Our translators undergo continuous professional development to ensure that they remain on the cutting edge of the developments in their target industry and language skills. The Translation Company invests in their success to make sure that they're the best at what they do, so you can be certain that your investment in The Translation Company's foreign language translation service gets you the quality content you need.
Fast Quote
sales@thetranslationcompany.com
800.725.6498
Get a Quote Today!
Reliability and Industry Knowledge
At The Translation Company, we offer reliability, thoroughness, and industry knowledge—the translator assigned to your project will be a native speaker of the language you select (over 200 languages for translation.) We also offer free quotes on any job that you need, so you can be certain that you're getting a very reasonable rate.
We are so sure that you'll find our foreign translation service the best one available to offer a 100% Satisfaction Guarantee! Simply stated, our eager and dedicated project managers will work with you at any time—no matter what your time zone or business hours—to make sure that you are pleased with your project.
Translating your contracts, documents, and papers is extremely important to you, and they're even more important to us. We have substantial experience in the translation business, and we know that maintaining our sterling reputation depends upon your satisfaction. Put our reputation to work for you—contact The Translation Company today.
We can tell you how to get started with your foreign market activities. Contact us today to discuss.
Fast Quote
sales@thetranslationcompany.com
800.725.6498
Get a Quote Today!
Corporate Member of the ATA – American Translators Association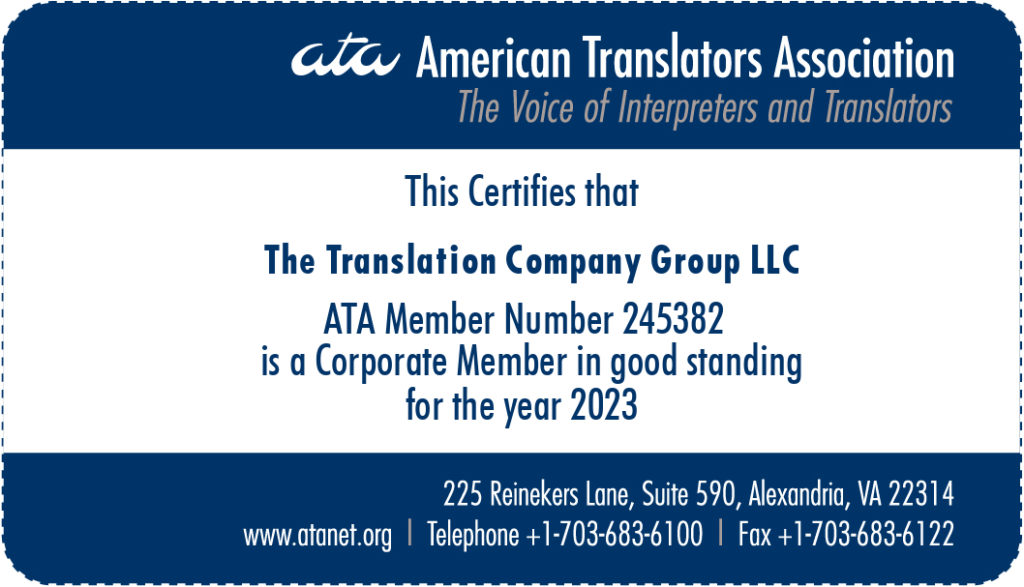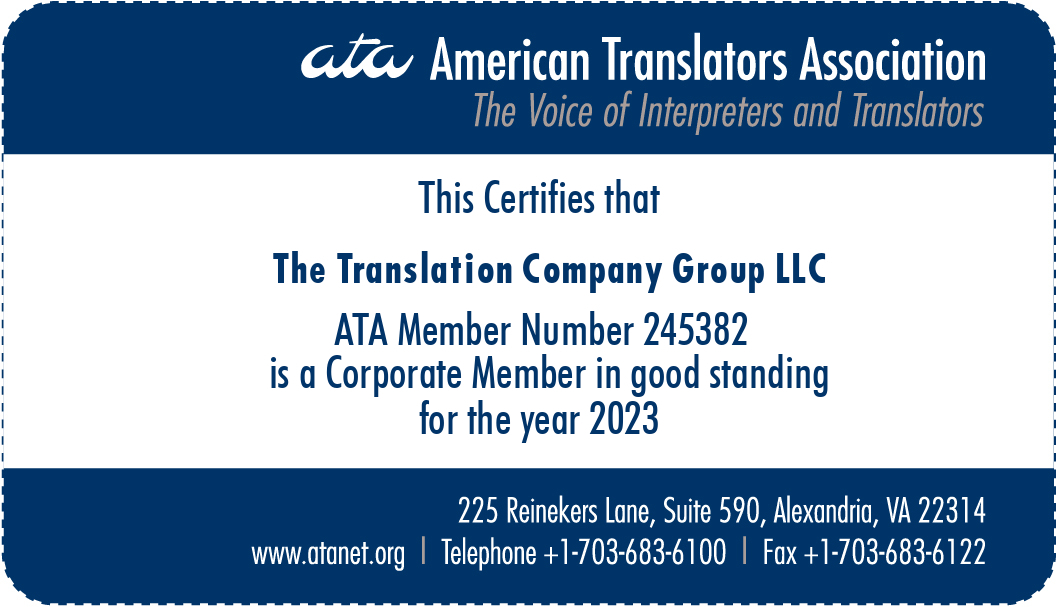 When your company begins the translation or localization process, you might notice many nuances in your target language that can be extremely difficult for anyone in the United States to know. Slang terms and cultural references often need to be translated, and their translations can't be found in any translation dictionary.
For these more difficult translations, The Translation Company offers in-country translation services. Instead of having one of our on-site translators tackle the job, we will hire one of our translators who live in the target country.
In-Country Translations
Though translators living in the United States can handle straightforward translation and localization tasks, there will be instances when in-country translations are required. If the document your company is creating relates to any specifics about the target culture, a translator who is especially familiar with that culture will be called upon.
If you're unsure whether or not in-country translations will be required for your project, our translation experts can help you decide based on the text.
Common Localization Requirements
Regular translations that are purely text-based are manageable for any of our translators. However, projects that require localization are usually the ones that should be handled by in-country translators. Since the localization process requires so much cultural context, an expert who is well-versed in the language and well-versed in the current trends of the area must take on the task.
Even if someone is originally from an area and considers himself or herself a native speaker, many cultural standards can change over time. Some of which might include:
• Slang terms
• Market conditions specific to your industry
• Advertising trends
• Design updates
• Celebrity trends
• Media developments
Fast Quote
sales@thetranslationcompany.com
800.725.6498
Get a Quote Today!
100% Satisfaction Guarantee
By choosing The Translation Company for your foreign language translation needs, you can trust your product's translation accuracy and efficiency. We offer a 100% satisfaction guarantee on every translation. If your company's products require an in-depth translation by expert translators native to the target area, we can help you. We have in-country translators ready to take on your project and help you localize it so there are no errors in the target language or culture.