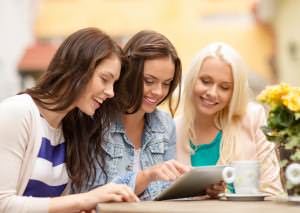 Online video is increasingly being deployed by Internet marketers as a way to attract consumers' attention and boost consumer engagement. 100 million Internet users watch videos online each day, and a third of all online activity is spent watching video. 90 percent of online shoppers at major retailers' websites report that video content is very helpful in making a purchasing decision, and 75 percent of consumers visit a marketer's website after seeing a marketer's video content.
After viewing a video ad, 12 percent of consumers will purchase the product mentioned, and click-throughs on average double when video content is included in a marketing campaign. The bottom line is that video marketing strategies can be incredibly advantageous.
But what to do if you are targeting your video material toward consumer segments that don't speak English as their first language? Should you translate your closed captions? If you are wondering whether or not you should translate your closed captions, the answer is a resounding "yes!" Translating your closed captions can be an excellent way to help to facilitate increased engagement, improve your ROI, and expand your audience.
Translation: The Key to Reaching a Wider Audience 
Believe it or not, a mere 1 of out of every 4 Internet users speaks English as their primary language. Furthermore, 80 percent of YouTube video views come outside of the U.S., and over two-thirds of YouTube videos come from non-English speaking countries. The bottom line is that multilingual captions can significantly enhance the number of consumers that your brand is reaching with Internet marketing materials.
Boosting SEO With Multilingual Captions
It is also crucial to note that multilingual captions can also substantially boost SEO efforts. Keep in mind that YouTube is among the world's largest and most popular search engines. One of the major factors used in YouTube algorithms is watch times. In other words, the longer consumers watch a piece of video content, the higher it will rank in results. When captions are in your target audience's native language, they are bound to watch longer, boosting your content's rankings.
Quality: The Key to Success
However, it should be noted here that quality is the key to success when it comes to translating closed captions. Many closed captions are translated via software or automated translation programs. But this isn't necessarily the best way to go. The best way to get quality closed captions translations? A professional translation company like The Translation Company.