Choosing Translation Companies
You've probably come across this page while searching for a translation company that can assist your business with some form of document or website translation.  Perhaps you have a specific need in mind, or maybe you know that you've got a project coming up that will require translation services, but you're not sure exactly what assistance you'll need.
Either way, there's a good chance you're growing overwhelmed by the many choices around or frustrated because you can't find exactly what you are looking for.
It's hard to find a translation company that matches exactly what you are looking for. Some companies will not have the service you need while others may not have the solid reviews you would expect for a long-term business partner.
Learn more about our company and values.
5 Questions to Ask When Picking an Accredited Translation Company
There are the main questions to be asked when selecting a translation agency:
Question #1. Can this company help me with all my translation needs?
Selecting a translation company may take you dozens of hours. Searching communicating and assessing rates are just a few of the tasks you need to take. After getting a short-list you will still need to test their services to see how they work for you. So, if you will spend a lot of time to find a translation company, make sure you will have selected a provider who can handle all of your needs. Once you have a good working relationship with the translation company and can trust that they will provide your translations quickly, accurately, and professionally, you'll be able to expand your business without worrying if you will be able to meet the needs of your global customers.
Question #2. Does this translation company have expertise in my industry?
Not only will you want to select a company with a good reputation, but you'll want one that understands the specifics of your industry. Terminology cannot be learned overnight, so a translation company already operating in your industry will have the knowledge necessary to convey all your technical expertise in other languages when translating your documents.
Question #3. Who are the main clients for this translation company?
Look for a list of the main clients in your industry on the translation company's website. If these clients allowed their names to be published on the provider's website, this means they are satisfied with the translation services being provided.
Question #4. How good is their customer service?
There isn't a better way to really know a translation company than trying their services. Although most translation providers will offer a free sample, the best approach is to assign a small first translation project to see how their customer service works. Didn't like it? Next one, please!
Question #5. Do they offer the right combination of price and accuracy?
Needless to say, this may be the most important consideration of all when selecting a company, as their translation services will be a direct reflection of your company. There is a direct correlation between accuracy and price. Given the same translation company, the higher the accuracy the higher the price. Your translation provider should help you achieve the best accuracy possible given your existing budget.
Don't forget to check the '5Facts You Should Know Before Buying Translation'.
Free Quote
sales@thetranslationcompany.com
800-725-6498
Get a Quote Now!
Three Reasons Why You Should Buy From Us Today
Many translation agencies outsource their translation projects to contractors without any quality assurance control in place. Such translation agencies are just intermediaries with little value added to your project.
Companies like ours handle the entire life cycle of your translation project while applying severe quality assurance procedures.
REASON 1 – WE ARE CERTIFIED BY THE WOMEN'S BUSINESS ENTERPRISE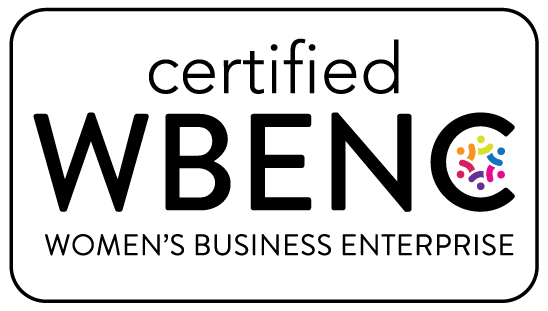 REASON 2 – WE ARE ACCREDITED BY THE AMERICAN TRANSLATORS ASSOCIATION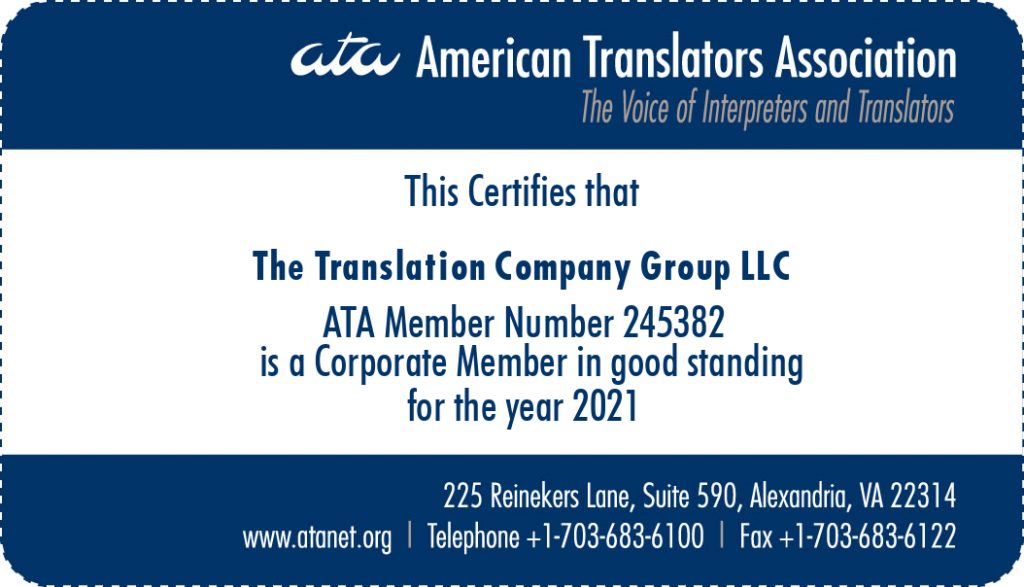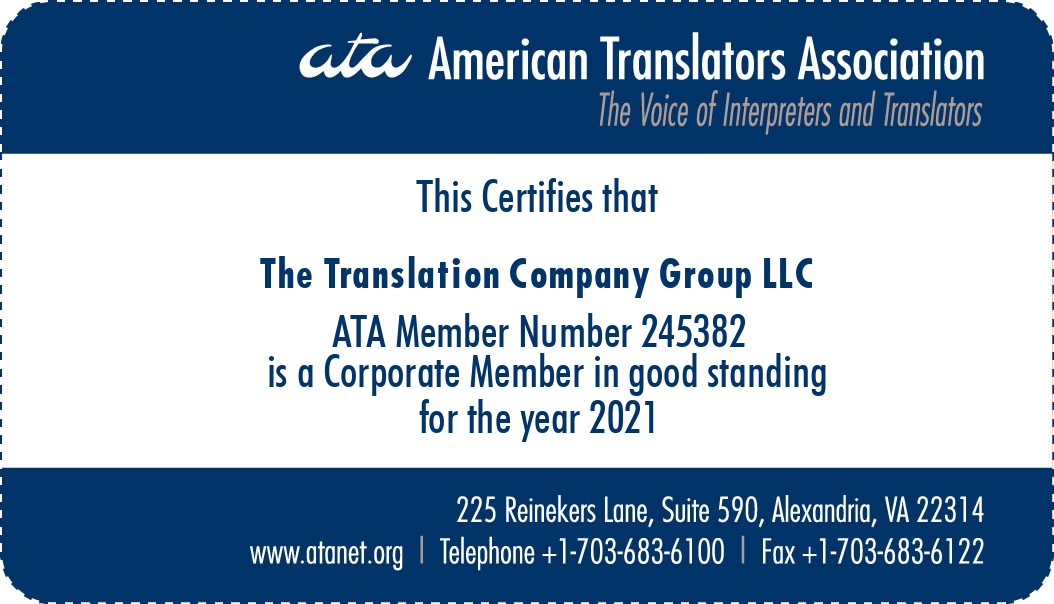 REASON 3 – WE OFFER A 100% SATISFACTION GUARANTEE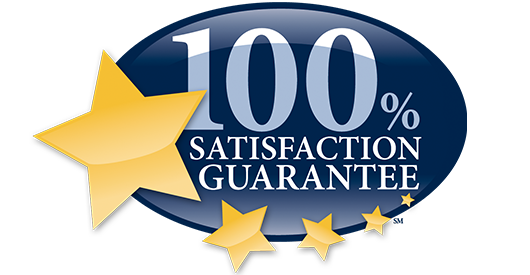 The Value We Add to Your Translation Projects
Value #1
Recruiting. There are hundreds of self-entitled translators out there. However, only a small fraction of this number may be considered ready to provide professional translation services suitable for business purposes. Translation agencies work hard to select the very best and make sure they remain around to take care of your translation needs.
Value #2
Payment Settlement. Most of the best translators work in their native countries. It is not common for a large translation project to require payments in more than 20 countries. And, trust us…international payments to countries such as Brazil, Russia, India, and China may be a nightmare for anyone not used to handling their red tape.
Value #3
Desktop Publishing. Most professional translation projects will require desktop publishing. Design, file conversion, and text adjustment required because of differences in language sizes and orientation are just a few of the many activities under the 'desktop publishing' label.
Value #4
Project Management & Quality Assurance. Translation, desktop publishing, editing, proofreading. All these activities must run smoothly together so the end result is a quality translated document. To make this happen, project managers and quality assurance professionals from the translation agency will work hard on your project.
Value #5
Consulting. Translation projects come in all kinds of sizes and specifications. Some projects will require extreme accuracy while others will be more tolerant for a less than perfect consistency in terminology (e.g.: the so-called 'for-information' translation). You know what you want as a translation buyer, but it is the translation agency with years of experience that best know how to achieve your needs.
Free Quote
sales@thetranslationcompany.com
800-725-6498
Get a Quote Now!
Best Sources for Translation Companies
ATA-TCD – The American Translators Association
The Translation Company Division of the American Translators Association represents the interests of Translation Companies with this major translation association. Although the ATA was born as an entity oriented to defend the interests of translators (persons) the entity has grown in size and representation enough to embrace translation companies as well. Search for translation companies member of the ATA here.
ACL – The Association of Language Companies
The Association of Language Companies (ALC) is an American association representing translation companies that provide translation, localization, and other language services. As an association founded by entrepreneurs, this entity is one of the main sources for translation companies in the US and abroad. They offer a referral directory based on languages and specialties translated.
ATC – Association of Translation Companies
Represents translation companies in Britain and other European countries. Learn more about their services here.
New York Circle of Translators
The main translation association in NYC. More about this association here.