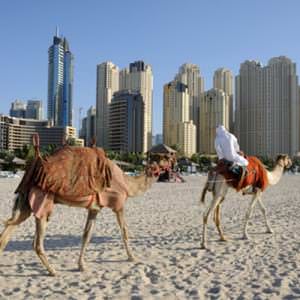 As entrepreneurs choose a location for their budding businesses, certain destinations are likely to seem more attractive than others. New York and Silicon Valley might be popular choices in the United States, while Europe could be another top pick. However, there are other countries that are often overlooked, and many have economies that are becoming stronger.
Martin van Roekel, CEO of BDO International—an accountancy and consultancy firm—wrote a contribution piece for the International Business Times about the benefits of conducting business in the United Arab Emirates (UAE).
United Arab Emirates
The CEO explained that his company surveyed more than 1,000 globally-aspiring Chief Financial Officers (CFO) from mid-sized companies last year, and found that many of them saw the UAE as being beneficial in that it was close to hub markets and had a stable economy itself. There are also easy access markets to the East and West and an entry route into Africa, he said (The Translation Company provides Arabic translation services).
According to van Roekel, to make any type of movement overseas, local knowledge is key. Understanding the customs of a new country and its business culture will help a company have a faster investment.
"It sounds obvious, but multinationals too often assume that doing business in Abu Dhabi is the same as doing business in Dubai or elsewhere within the region," he said. "Each country and emirate has its own culture, rules, regulations and ways of doing business. It's imperative that businesses have local people in each region so they can tailor their approach and get it right."
Multilingual Services
Working with a firm that specializes in multilingual translation services whether in Arabic, Italian or Danish can be immensely helpful to companies that are considering overseas movement. Whether it is toward the UAE or another country, expert translation will keep the transition smooth.