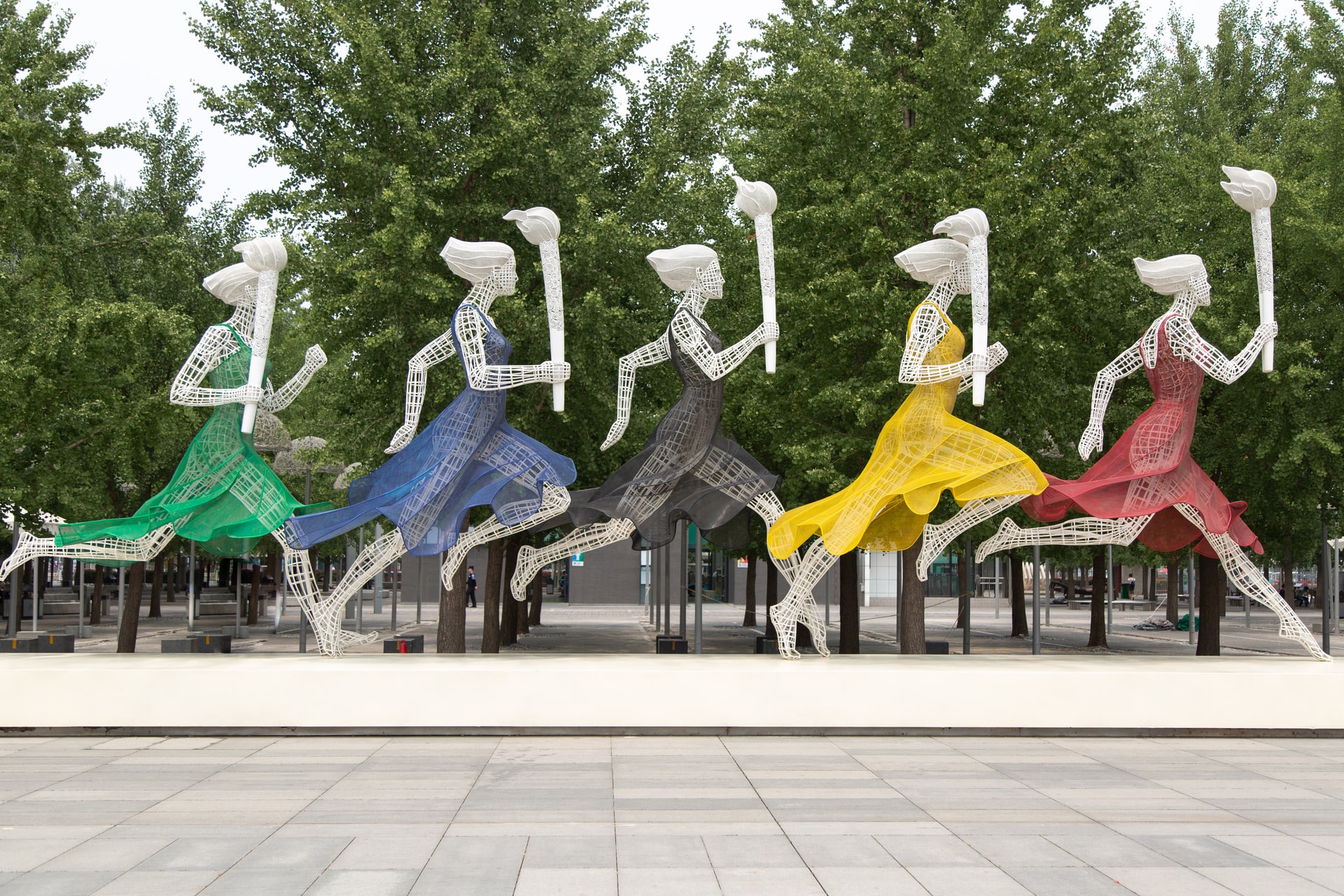 Translation at the Olympics
"The important thing in life is not the triumph, but the fight; the essential thing is not to have won, but to have fought well."
– Olympic Movement's Creed
From July 23rd until August 8th the Olympics has dominated the national and international headlines with its shock performances, smashing of world and Olympic records, and its show of these extraordinary athletes competing in empty stadiums with as much enthusiasm and vigor than ever before.
There is no doubt that Covid 19 has impacted the games. Most predominantly with the one-year delay making avid spectators wait five years for the greatest feast of athletics on the world stage. For some, the extra year played to their advantage and for others, it has seen them lose out. But one thing is for sure; Japan as hosts faced an unprecedented challenge in keeping the games on schedule and the participants safe at all times for more than two weeks. 
Organizing an event that sees over 205 nations competing, with 11,000 athletes across 42 separate venues is no small task. When considering the scale of the logistical preparation and planning it is easy to see why each Olympics normally occurs on a four-year cycle. But amongst all the areas that need to be thoroughly planned, there is one that is often overlooked but absolutely essential for the smooth operations of the Olympic Games: Translation. 
Free Quote
sales@thetranslationcompany.com
1.800.725.6498
Employee Handbook Translation Services Available
The Official Languages of the Olympics
So, what role do languages play at the Olympics? Well, French and English are the official languages of the Olympic Movement so there are always at least those two official languages at the Games. Then the language of the host nation, if not a French or English-speaking nation, also becomes an official language for the duration of the Games' cycle. Meaning in Tokyo the three official languages were Japanese, French, and English. 
Official languages are set out in the Olympic Charter as rule number 23. The Olympic Charter is a document containing by-laws and rules that the International Olympic Committee (IOC) follows. Rule 23 also states that simultaneous interpretation during sessions must be done in French, English, German, Spanish, Russian, and Arabic. Finally, it states that 'the French text shall prevail' if any official Olympic document in English is too different from the French version.
The Scale of Translation 
Since the Olympics is one of the most renowned sporting events in history all across the globe, there is a fierce competition between athletes at their peak. The Olympic Games provides countries with a forum to set aside differences and come together on the world stage through the power of sport.  This requires superior global translation services, perhaps some of the biggest and most organized in the world.
The Olympic translation has a huge job. The team of professional linguists must work hard under a very strict schedule to translate documents such as menus, instructions, schedules, medical records and signage such as directions, road signs, train stop signs, and the on-field screens. Essentially, anything related to the Olympic Games must be translated into all of the official languages; a process which begins months before the Olympics even begins. 
Despite the scale and the tediousness, this process provides the absolutely vital function of allowing the Games to run smoothly by ensuring that all athletes receive the correct information in their native language or a language they can understand fluently. 
The Cost of the Olympic Games
According to Liam Fox, an analyst at analytics company GlobalData, the absence of fans at the Tokyo Games could lead to as much as $800 million in revenue losses. "Pre-pandemic, Tokyo 2020 organizers initially expected 7.8 million tickets would be made available for the Olympics."
Severe cost overruns have become the norm for Olympics host cities and it is estimated the 2020 postponement alone cost Japan $2.8 billion, two-thirds of which was paid with public funding, according to Forbes. 
Digital Assistance
Digital technology played a bigger role than ever before due to the Covid19 pandemic. As none of the events allow spectators, there were an estimated one billion people following the Games on their mobile phones, laptops, and tablets. So, it's not surprising there were a number of technical solutions to make communication easier.
To compensate for the lack of ambiance, cheers, noise, and fan support, organizers had to come up with a variety of different ways to manually create energy for the athletes competing. For example, just a few minutes before the qualifying rounds in swimming, a world map popped up on the large screen. It displayed a real-time ticker of over 34 million fans around the world who were cheering for the Olympians by clicking a virtual cheer button on the official Games website. White dots blinked intermittently on the map indicating where fans were watching the Games, which spanned the whole world. 
Families of athletes were not allowed to travel with them this year which left many competitors celebrating their greatest achievements alone. In lieu of in-person celebrations, organizers set up screens across the venues where athletes could connect through live video links to their families and friends at home. Many families and friends became streaming sensations as videos began to pop up across social media showing packed out homes, gyms, and school halls where groups of family, friends, and supporters had met to celebrate the moment their loved ones made history. 
Free Quote
sales@thetranslationcompany.com
1.800.725.6498
Employee Handbook Translation Services Available
A Splash of Japanese Culture
It was not only athletes who played to empty stadiums. Both the opening and closing ceremony saw empty seats and a faceless silent crowd. However, that didn't stop Japan from showing us the beauty of its culture, history, and language; emoji, karaoke, futon, ramen – all words we wouldn't have if it weren't for the Japanese language.
The complex language incorporates elements of Chinese, English, German and Portuguese and was on full display this summer in Tokyo. Japanese is among one of the most challenging languages used for reading and writing, partly because it sometimes uses characters from other languages. Here are some fun slang words and phrases USA sports report from this year's games:
やばい (yabai)
It can basically mean anything! "Yabai" originally meant "dangerous," but has taken on new meanings as an exclamatory phrase used to amplify both "terrible" things and "amazing" ones. It's a "catch-all slang word", said Kushner, and it's used commonly among young people. 
An informal greeting to use with close friends, it may be the closest thing to "What's up, dude?" or "Yo, man!" But, avoid using this with elders or in a professional setting (a boss, senior-coworker, etc.).
This is a fun one that has taken on stronger meaning in the past few decades – and it doesn't necessarily have a direct translation to English. "Riajuu" describes people who would rather be out in the "real world" as opposed to online.
Took a bad bite of sushi? This word means "Gross!" or "Ew!"
"Seriously?!"
Volunteers
The unsung heroes of the Olympics were the  volunteers who are a rich part of its tradition and serve as translators, guides, and drivers. They range from university students to retirees and usually come from all over the world.
Reuters reports that some 110,000 were initially planned to help in Tokyo, although 10,000 had quit as of last month, as the worsening pandemic turned public opinion against the Games. Most foreign volunteers are also not being let in because of the restrictions. 
To find potential candidates, Tokyo universities launched a recruitment program that featured intensive language training classes and crash courses in sports terminology for qualified and interested students. 
In order to improve efficiency and compensate for staff shortages, the Olympic Committee also created a new centralized simultaneous interpretation system for the Tokyo Games to translate all events into the three official languages for T.V. audiences worldwide.
Olympic Fact File
Here are some Tokyo 2020 facts and figures brought to you straight from the International Olympic Committee (IOC)
0 positive COVID-19 cases in the Tokyo 2020 Olympic Torch Relay Operations team over the torch's entire journey across Japan.
10,500 torchbearers were involved in the Olympic Torch Relay.
205 National Olympic Committees and the IOC Refugee Olympic Team (EOR) competed.
29 athletes qualified as part of the IOC Refugee Olympic Team for the Tokyo 2020 Games.
339 medal events, including 18 mixed/open events.
Around 11,000 athletes participated in the Olympic Games in Tokyo 2020.
Five new sports were added to the program for the Olympic Games Tokyo 2020: karate, skateboarding, sport climbing, softball/baseball, and surfing.
Over 1,800 athletes from 186 NOCs were awarded Olympic Solidarity Tokyo 2020 scholarships.
Over 85 percent of athletes and their support staff staying in the Olympic Village were already vaccinated or have secured vaccination.
The Olympic Torch Relay passed through 47 prefectures and 665 municipalities across 121 days.
The Olympic Torch Relay traveled through all 47 of Japan's prefectures over 121 days.
There are 339 medal events, including 18 mixed or open events.
There were 42 competition venues for the Olympic Games
Olympic Interpreting
In addition to the efforts of individual translators, interpretation services play a critical role during the games. As the Olympic Games feature athletes from over 200 nations, interpreters are vital to bridging cultural, social, and linguistic barriers between participants. For instance, between the various Olympic venues and the countries' separate locker and dorm rooms, something similar to a mixed zone exists where participants from all different countries travel to their respective venues. 
Working in these zones can prove difficult for the most skilled linguist, as interpreters in this zone often help to prevent misunderstandings or confusion. Additionally, the Olympic interpreters have to provide video interpretation and conference interpreting services by translating the press conferences, the medal ceremonies, and the International Olympic Committee meetings.
In Conclusion
It is sometimes said that sport is a universal language. The Olympic Games has brought together thousands of athletes from more than 200 nations, with an estimated 2 billion viewers following the action at home. 
But away from the pool, field, court, track, or pitch, bridging the language divide and overcoming the communication barriers creates challenges for the host city. The Olympic venues become hubs of diversity with teams, coaches, athletes, and officials chatting in hundreds of different native languages.
The International Olympic Committee has its two official languages which are French and English, as well as the five working languages which are Arabic, German, Russian, Spanish, and Chinese. But a huge amount of effort has gone into translating communications into many more and making people feel welcome across the linguistic divide.
The Translation Company
The Translation Company delivers quality, care, and understanding in every project offering a range of services that are tailor-made and adapted for a global scale and have specialists on the team who understand the language of sports and athletics. The Translation Company guarantees 100% satisfaction on all of our projects and we have been in the business for over 15 years – we know exactly how to deliver a fantastic service.