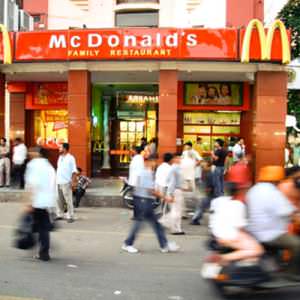 Regardless of the niche that business owners find their company falling into, they can still follow in the footsteps of larger chains like McDonald's and be successful. The world-renowned eatery has been able to integrate itself into many different countries by being unafraid to adopt local customs.
Business Models for Success
According to Forbes, McDonald's has been able to find such success by adhering to two main business models. The first is by using franchises. That way, everyone from management to shareholders can share in the risks and rewards that come with running a business.
The second is that the fast food chain found success "by adaptation and innovation, coming up with fresh products and services to address the needs of a diverse consumer market—as shaped by demographic, economic and local factors around the world."
McDonald's has also been able to evolve over time, making adjustments to account for whatever customers might need. For example, a "fast and convenient" campaign was successful throughout the 1990s and early 2000s, according to the news source. However, more recently there has been a bigger push for healthier and "more natural" foods. Thus, the eatery added more salads, fruits and carrot sticks to its menu.
Translation Companies & the Language Challenge
When small to medium-sized company owners are considering similar adjustments, and making sure they adhere to local customer needs, it is important to also remember a business aspect. Moving an organization into another country will also require certain paperwork to be filled out properly, and in a language that local authorities understand.
Partnering with a translation company that specializes in document translation will be especially beneficial. Without certified translation, a business could delay when it is able to set up shop and start delivering personalized products to customers.
Some of the main languages translated nowadays: