Print Friendly
Translation Service Rates
5 Things to Know
Need a translation quote for "yesterday"? How can you get the best translation service rates possible? Learn in 5 quick steps everything you need to know to communicate with translation vendors and get the best deal possible. After learning here how translation rates work, don't forget to check our 5 tips on how to save big in translations. These tips apply to all types of translations. Finally, go to the bottom of this page to learn why you should always avoid cheap translation services.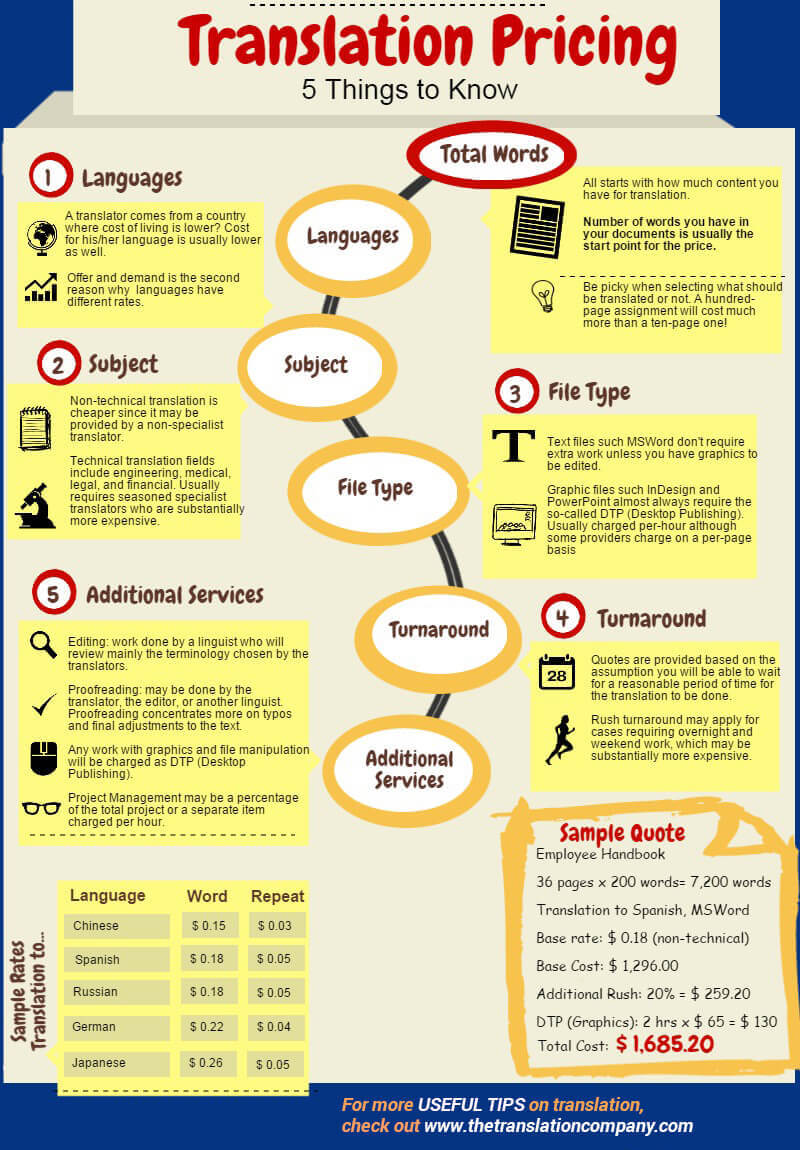 Sample Translation Rates
At The Translation Company the lowest rates for translation services are:
English to Chinese $ 0.10/word, English to Spanish $ 0.10/word, and English to Portuguese $ 0.10/word.
This cost may be increased depending on complexity, but it may also be decreased depending on volume. Larger volume jobs enable translation vendors to reduce their margins and offer a better translation rate. These three languages usually represent the cheapest rates you will find when buying translation services.
Some translation rates in the middle of the rate scale:
English to French $ 0.18/word, English to Italian $ 0.18/word, English to German $ 0.18/word.
These are commonly translated languages. However, as they are translated by native European translators, the higher cost of living and compensation standards of these translators will bring such rates up.
The most expensive translation rate in our language portfolio:
English to Norwegian: $ 0.29/word
Norwegian translations are recognized as the most expensive translation in the market. Norway has an outstanding living standard and a very strong currency. On top of that, not many Norwegians choose a career as a translator. The consequence of these factors combined is that English to Norwegian translations are very costly.
Why You Should Avoid Cheap Translation
Would you trust your business content to a guy working naked out of a basement? What about getting your content machine-translated somewhere in India?
Of course you don't want to risk any of these situations. However, that's exactly what you face when you decide to engage with a vendor with rates outside the market average.
The most important tip you can get from this page: never choose to go with the lower rate received, specially if this rate is substantially lower than the market average. Cheap translation rates are almost always a guarantee of headaches. Professional translators are just like professionals in other industries. They need to receive a decent payment to keep a decent standard of living. You don't need to hire the most expensive translation service around, but make sure you choose an experience company with rates within the market average.
Use the following embed code to add this infographic to your website:
see other translation infographics
about our translation services