At The Translation Company, we are proud to hold several certificates that reflect our commitment to excellence, diversity, and inclusivity in the language services industry.
As a Woman-Owned Small Business (WOSB), we are certified by the Small Business Administration (SBA). This certification recognizes that our company is at least 51% owned, controlled, and operated by one or more women.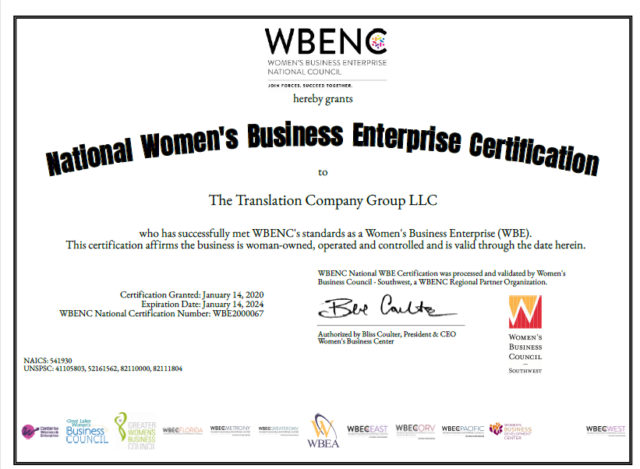 As part of a community of women-owned businesses that support and empower each other. We are proud to have a team of talented women who are committed to delivering high-quality language services to our clients. Our team members come from diverse educational and professional backgrounds, including linguistics, translation, interpretation, and language teaching. We are committed to investing in their continued professional development and ensuring they have the resources they need to thrive in their roles.
In addition to our WOSB certification, we also hold the Women-Owned Small Business (WBENC). This certification is granted to companies that go through a rigorous process that evaluates a company's ownership, management, and control by women, and it provides additional opportunities to access corporate and government contracts. As a certified WBENC, we are committed to promoting diversity and supporting women entrepreneurs.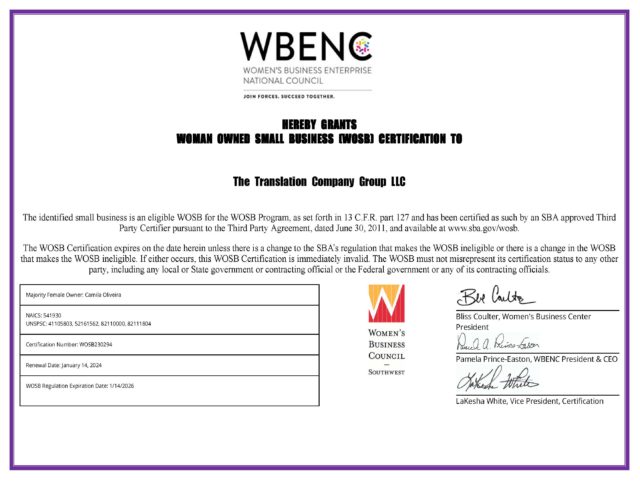 The Translation Company is a Corporate Member of the American Translators Association (ATA), the largest professional association for translators and interpreters in the United States.
ATA membership is a prestigious credential that indicates a commitment to professionalism, quality, and ethics in translation and interpreting services. As a Corporate Member, we have access to a network of industry professionals, ongoing education and training opportunities, and the latest industry news and trends.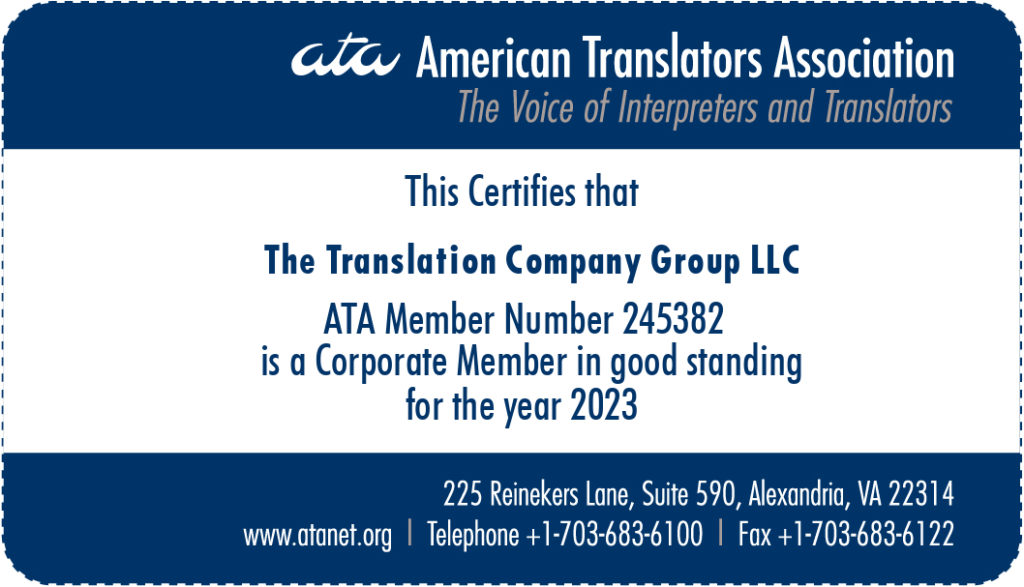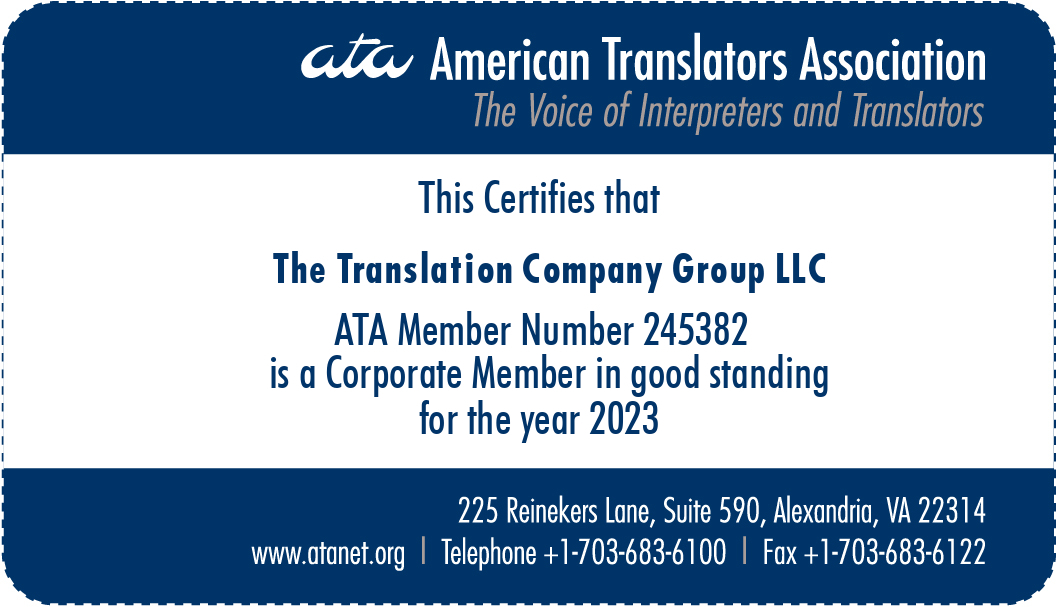 The Translation company is also a HUB certified enterprise. The Texas Comptroller of Public Accounts (CPA) administers the Statewide Historically Underutilized Business (HUB) Program for the State of Texas, which includes certifying minority-, woman-, and service-disabled veteran-owned businesses as HUBs.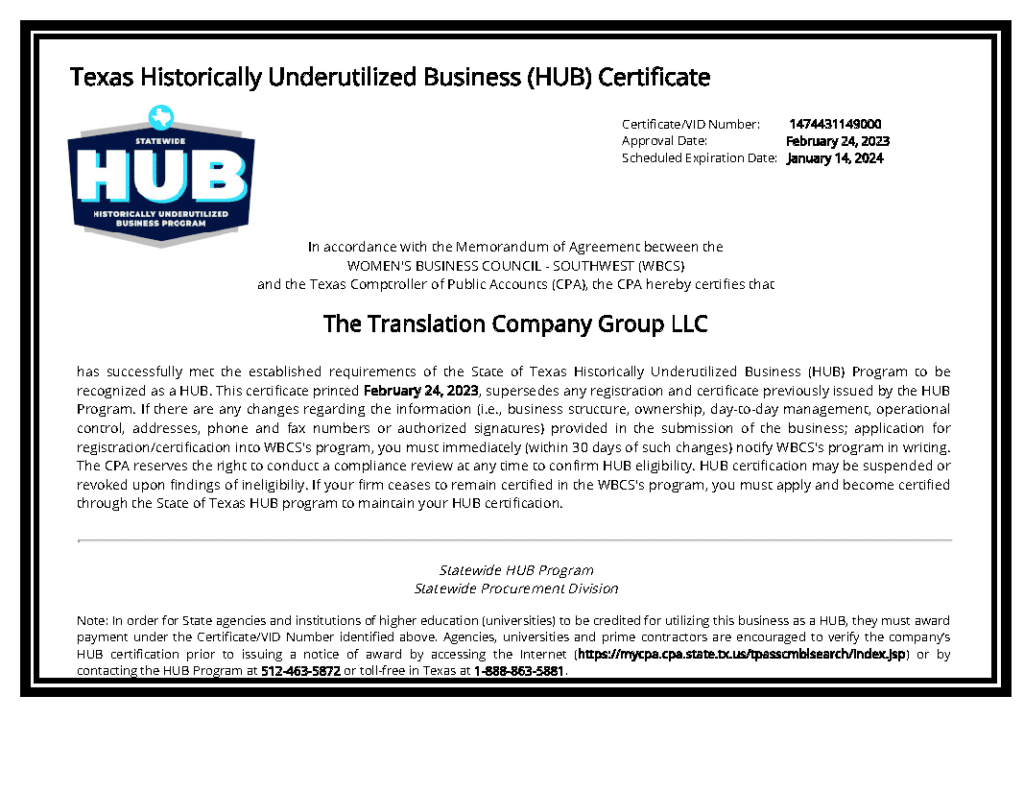 Our ISO compliance, coupled with our WOSB, WBE, and ATA certifications, sets us apart from other language service providers. We are committed to delivering the highest quality language services to our clients, and our certifications and ISO compliance are a testament to our commitment to excellence, diversity, and inclusivity in the language services industry.