Print Friendly
Professional Translation Services

Professional language translation services are needed for a wide variety of projects, fields, and industries. A reliable translation company that can assist you with all your document and website translation needs.  Getting started with the right translation vendor will ensure a successful expansion of your business into global markets. With our resources to handle professional translations into over 200 languages, we always have the right professional translators for your needs.
We understand what professional means for the translation business: quality translation services are provided on time and within budget.
#1 Service for Companies Reaching Global Markets
Today's business may require assistance with translation and localization services in a myriad of areas and languages. Companies with clients overseas may need assistance in translating their clients' financial and legal documents into English, translating their business profiles, or marketing documents into their clients' language.
Professional Translators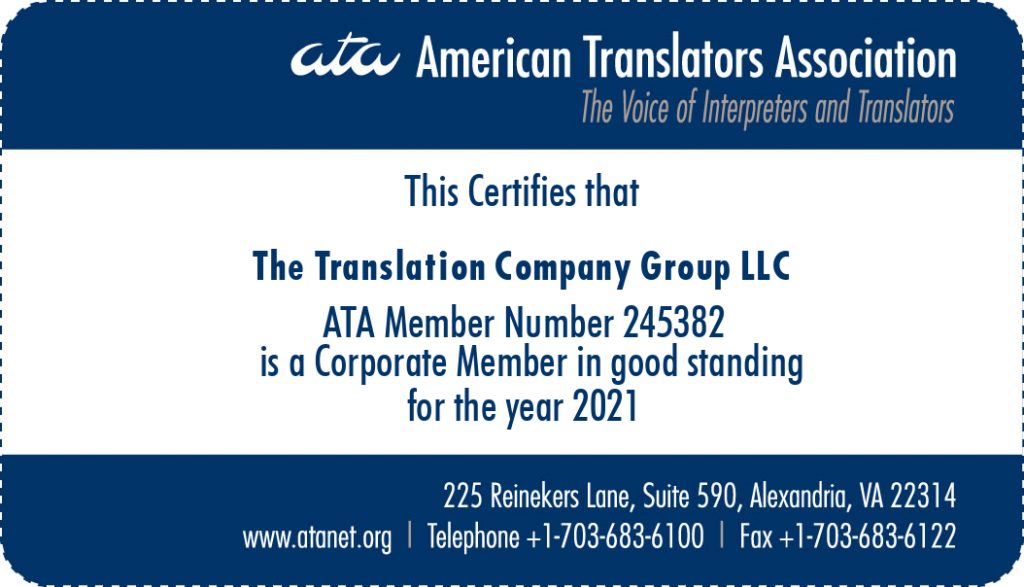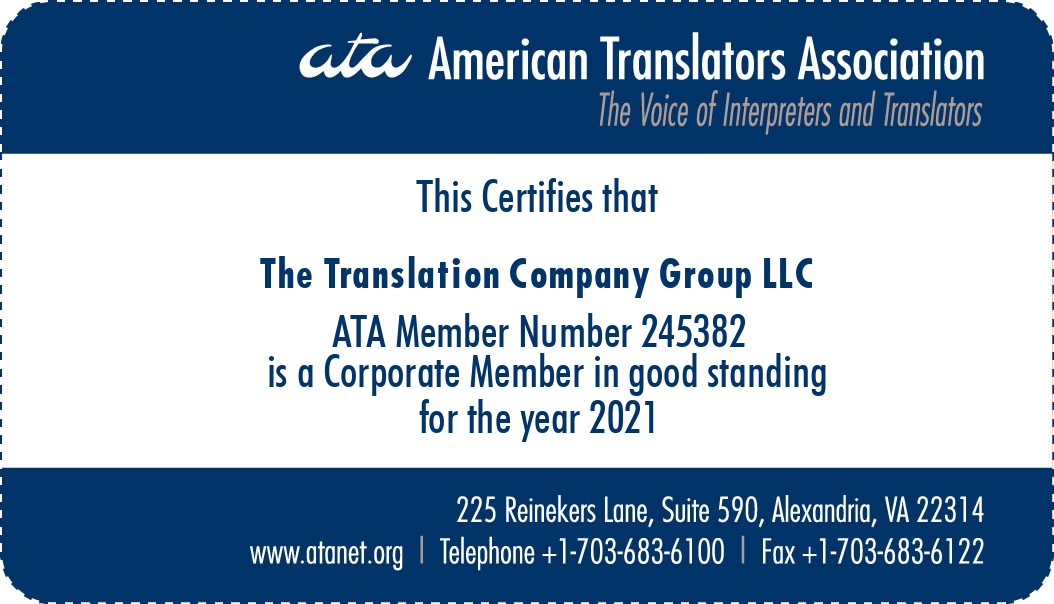 Even companies that perform all of their business in English may suddenly find themselves needing translation services because so many foreign nationals come to the U.S. to study and conduct business. You never know when a company may need to sponsor an individual for work authorization in the U.S. or provide a client with legal or financial documentation. If so, companies often discover that their employee or client's birth certificate, degree, or other documentation will need to be translated into English to proceed.
Free Quote
sales@thetranslationcompany.com
1.800.725.6498
Receive a quote today!
We Do It Right the First Time!
When selecting a professional translation company, you'll want to make sure they have an excellent reputation and are capable of handling all of your translation needs. The Translation Company can ensure that all of your translation needs will be met quickly, affordable, without quality compromised.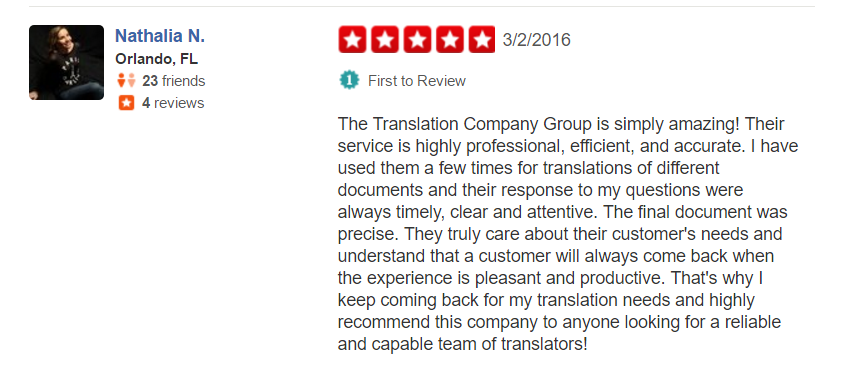 Our company is accredited by the American Translators Association and the New York Circle of Translators. Our translators are certified by major translation associations in the US and abroad.
Get a Free Quote today!
North America: 1.800.725.6498
International: +1-212-300-5990
sales@thetranslationcompany.com
Industry-Targeted Translations
Our team of translators are collectively able to translate documents in over 100 languages. We can assist you with translating:
Legal
Financial
Business and
Technical
Professional translators work on their specialties. For instance, legal translators will focus on legal translation assignments, while business translators will work on business-related projects. Other translation-related Services: proofreading, notarization, graphic design
One-Stop Professional Translation
Don't Get Lost in Translation – Hire Professionals.
Worried about a short deadline to get hundreds of business documents translated on time? Stuck with trying to communicate to clients and partners overseas? Need some professional help? The Translation Company is here to assist with your company's translating needs. We are a full-service translation company and language provider, offering you professional translation and localization such as:
documents
websites
software
online applications
multimedia materials
We are responsive, flexible, and creative solutions that fit your needs rather than forcing clients to fit ours. With our high-quality translators working fast and efficiently on your project, your business will flourish with the new aspect of being multilingual.
Get a Free Quote today!
North America: 1.800.725.6498
International: +1-212-300-5990
sales@thetranslationcompany.com
Don't let your company fall by the wayside just because you can't communicate with other cultures - hire a translation company to do the talking for you. If success is what you're looking for, let The Translation Company guide you the way.
Certified Translations with a 100% Satisfaction Guarantee!
Professional Website Translation. Showcase Your Business Globally
Get your products and services global with The Translation Company. Our company makes it easier for you to expand your clientele and work boldly in other languages such as Spanish, German, French, Italian, Russian, Chinese, and Portuguese. We hire professional translators only so that our clients have access to the best talent to translate their content and websites. Our professional language translation services are tailored to financial services, medical services, business, manufacturing, and law. Our professional translators work with strict quality assurance requirements to provide the accuracy you need to take your business global.
5 Top Reasons for Translating Your Website
Expand into new markets: this means more customers and more revenues for your company
Better customer experience: even in the US, there are dozens of languages spoken as an everyday language by a large part of the population. These customers can understand much better their mother language, which translates into more sales and revenue
Comply with laws and regulations: some industries in some states will be required by law to offer information in other languages. Spanish is almost a must for dozens of industries in the US
Increase traffic to your website: a larger website with a more robust language portfolio will usually rank better on Google. This means more exposure, even for the English content on your website.
Get ahead of your competitors: the future is going global. Why waiting until everyone else translates their website to get your job done? Be a leader and lead your organization towards a global approach to your business.
The Translation Company offers a 100% satisfaction guarantee. Have the peace of mind from guaranteed unlimited revisions until you are fully satisfied. Our translation company will also work with tight deadlines, budget adjustments, and last-minute additions. Yes, we cater to your needs, which is why The Translation Company is known for our over-the-top customer service. You can have all this in 200 languages at an unbeatable price. Your company can't afford not to hire a professional translation company.
Get a Free Quote today!
North America: 1.800.725.6498
International: +1-212-300-5990
sales@thetranslationcompany.com
Serving Fortune 500 Companies
Hiring a reputable company to provide you with a professional website translation may help increase your success, clientele and get your business to the top. The Translation Company has years of experience serving such large enterprises as Chase Bank, New York University, and Bank of America.

So you can trust our professional translators to match your standards. Don't delay - call or e-mail us today for a free quote. Become more successful by going global with the help of The Translation Company.
More about Professional Translations
Looking for a reputable association of professional translators in New York City? The New York Circle of Translators is the foremost professional association in New York.