Our Headquarters
Need some help keeping up with the fast-paced business life and economy of New York? Do you require a dependable and affordable New York translation company that will cater to your specific needs? Want to make your job easier? Then The Translation Company is here for you. Specializing in services for financial, technical, business, and legal translations, your company can leave the hard work to us.
Our Building
Located here in New York ourselves, we understand the stringent quality standards that big corporations, financial companies, and law offices operating in New York have – we will work with tight deadlines, budget adjustments, and last minute additions. Don't stress any more. The Translation Company wants to help your company.
Free Quote
sales@thetranslationcompany.com
1.800.725.6498
Get a Quote Today!
In the Heart of the Business World
The Translation Company serves a variety of business areas including: multinational corporations, banks, law offices, IT developers, engineering offices, and high-tech equipment manufacturers. These companies located in New York especially, are right in the heart of the business world and therefore, highly competitive. Your company needs to keep up with surrounding businesses and challenge their assets, and one way to do this is to hire a New York translation service.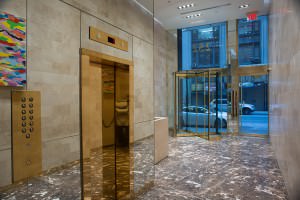 Translating important business documents? A leg up on the competition? We help you make your company more universal by expanding to international clients.  New York translation services like those provided by The Translation Company enable you to communicate with markets in other countries. Even if your company is not looking to branch out overseas, there are over forty languages spoken in New York alone. Let The Translation Company help you to increase your number of clients, improve your company, and make your job easier.
Quality Assurance Process
What should you look for in a New York Translation Company? Many of our major clients are also based in New York, including such enterprises as Chase Bank, New York University, Bank of America/Merrill Lynch, Logic Controls, and CNAA Management. We also currently serve over forty global clients in every continent. As a member of important professional organizations, such as the American Translators Association (ATA) and the New York Circle of Translators (NYCT), you can be certain that our work is the best. And if our reputation hasn't quite convinced you yet, we offer a 100% satisfaction guarantee.
We will provide unlimited revisions to your translation, free of charge, until you are completely satisfied. But that probably won't be an issue because here at The Translation Company we hire only the finest highly qualified translators, yielding practically impeccable work. We understand the fast-paced life of New York, and we want to help your company keep up with it. If your company demands only the finest New York translation services, contact us today.
Your New York Translation Company!
sales@thetranslationcompany.com
1.800.725.6498
Receive a quote today!

100% Satisfaction Guarantee!
Visitation Available for All Boroughs
In today's global economy, reaching out to markets in other countries is vital to any company's ultimate success. Technology has allowed us to easily reach out and speak with others, but it has not made the communication process any easier for people who cannot speak the same language.
Using a free online translation service will not suffice for serious business because certain contextual translations will be missed, and these errors could actually offend important clients. Additionally, 72.4% of consumers say they would be more likely to purchase a product if the packaging was in their own language. That's why The Translation Company prioritizes accuracy for every translation. We know how important every business conversation is, so we don't allow errors to pass through our rigorous editing processes.
Professional Translation Services Across the Globe
Though headquartered in Manhattan, we serve clients in more than forty countries around the world and we can translate to and from more than 200 languages. Each of our linguists draw upon many years of experience for every translation, which is a vital part of making sure each is accurate and localized. At The Translation Company, we are able to understand your needs exactly, even in a phone interview so that your product is delivered quickly and accurately.
Areas We Serve in New York
While our New York Office serves clients around globe, we are happy to work closely with clients in and around New York and the tri-state areas such as:
Upper Manhattan, Carnegie Hill, Upper West Side, Lincoln Square
Midtown, Columbus Circle, Times Square, Garment District, Herald Square, Madison Square, Chelsea, Flatiron District
Union Square, Meatpacking District
Downtown, East Village, Greenwich Village, SoHo, Lower Manhattan, Financial District, TriBeCa
Professional Translation Services with a Guarantee
At The Translation Company, we offer a 100% satisfaction guarantee. While we strive for perfection on the first try, you can tweak the final product until it meets your needs and desires exactly. That way, you know you won't be left with an unsatisfactory result no matter what. With short turnarounds, consistent quality customer service and expert knowledge, The Translation Company is a one-stop-shop for translation success.