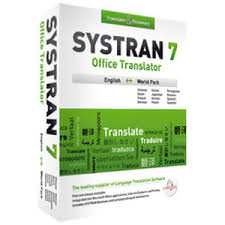 SYSTRAN
SYSTRAN Office Translator
Features
Supported File Formats
DOC, XLS, PPT, RTF, MSG and HTML
Operational System
Windows
Price
From $199.00 to $299.00
Link
http://www.systransoft.com/
Contact Information
SYSTRAN Software Inc.
North America
9333 Genesee Avenue – Suite PL1 – San Diego,
CA 92121 – USA
Phone: (858) 457-1900 – Fax: (858) 457-0648
There is no email for contact, but you may send a message through the contact form at:
http://www.systransoft.com/contact/sales/home-office-small-business
Editor Notes
SYSTRAN Office Translator is used to translate active files in Microsoft Word, Excel, PowerPoint, Outlook and Internet Explorer. One interface allows you to access machine translation with the same features in all of these applications. Web pages are also translated by preserving the formatting offering advanced linguistic options and display of alternate meanings.
Help & Support