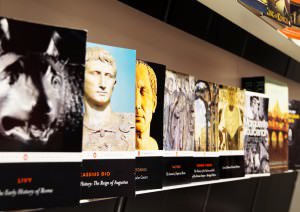 It's no secret that writing in one of the world's lesser-known languages, from Irish to Finnish, means that an accurate, high-quality translation is the key to accruing global readership. After all, if the works of Japanese author Haruki Murakami had never been translated, there wouldn't have been fans lined up in New York City for the midnight release of his latest novel.
In order to be successful, authors need translations, and they need publishers who can push and market those translations. In Greece, however, lack of accessible Greek translation means that Greek literature is floundering on a global market.
A Legacy of Literary Genius
The Greek literary tradition is one of the oldest in the Western world. Homer's "The Iliad" and "The Odyssey" are both two foundational works of the Western cannon. Today, Greece has no shortage of amazingly talented contemporary writers. Nikos Kazantzakis' "Zorba the Greek" and "The Last Temptation" are world-renowned, while Panos Karnezis' recent novel "The Maze," detailing the catastrophic Anatolian campaign of 1920-1922 in which Greece attempted to invade Turkey, has quickly garnered critical attention.
"It's the power of Greek writing that makes it so rewarding. It's emotional, it's visceral, it's passionate," Irish author Richard Pine contended. "Of course the perennial themes of love, jealousy, and ambition are present, but Greek novelists seem to be preoccupied, very instructively, with the events of history in the past century, and the emotions they evoke."
Bogged Down by Bureaucracy
Yet in spite of the remarkable works Greek writers routinely produce, these works aren't being translated. In Greece, the Frasis project, which is managed by the national book center, funds the translation of Greek language literary works into other languages in an attempt foster global readership of Greek literature. Yet this two-year-old program does not have a successful track record.
Though the project has an annual budget of €189,000, it has only subsidized the translation of a mere 28 books — just a bit over one-fourth of the 100 applications it received. Only four of these books were translated into English. Many authors report that the project is bogged down by bureaucracy and lacks any kind of coherent operating procedure. Furthermore, virtually no marketing support is provided, making it incredibly difficult for aspiring Greek writers who want to see their books on Amazon's homepage.
What is clear is that readers across the global need better access to Greek literature. "What these stories have in common is an earthiness, a deep sense of history and tradition, a seemingly infinite capacity to engage with social issues, and a sensitivity to what it means to be Greek, how to celebrate life in all its horrors and joys," Pine said. "Partly for the echoes and parallels, partly to discover a new culture, readers need to find them."
Quote Source:
http://www.irishtimes.com/news/world/europe/greek-literature-risks-getting-lost-in-translation-1.1962167