The Translation Company Group LLC
New York Office
Companies going global require quality translation services. The Translation Company is a New York translation company close to your office. Our sales representatives are available for complimentary presentations of our services in New York. Yes, we are available by email, fax, and phone as well. But, if you need an in-person meeting so we can better understand your translation needs, we will be glad to meet you at your location.
Presence in New York City
If you're a company, law firm, or other professional organization, you want a translation company available at a moment's notice. You want a New York translation company that can come to your office to professionally explain its language services, or just to drop by to have a cup of coffee. The Translation Company has been providing quality and professional translation services in all parts of New York City, plus we are welcomed members of the New York Circle of Translators and the American Translators Association.
Phone: 212-300-5990
sales@thetranslationcompany.com
263 W. 38th St., 1705
New York, NY 10018
Thousands of Satisfied Clients!

See more of our TrustPilot Reviews.
Solid business relationships based on:
Perfect Communication
Long-lasting Commitment and Trust
Quality Translations
Best Price in the Market
See us on Yelp
See us on Google+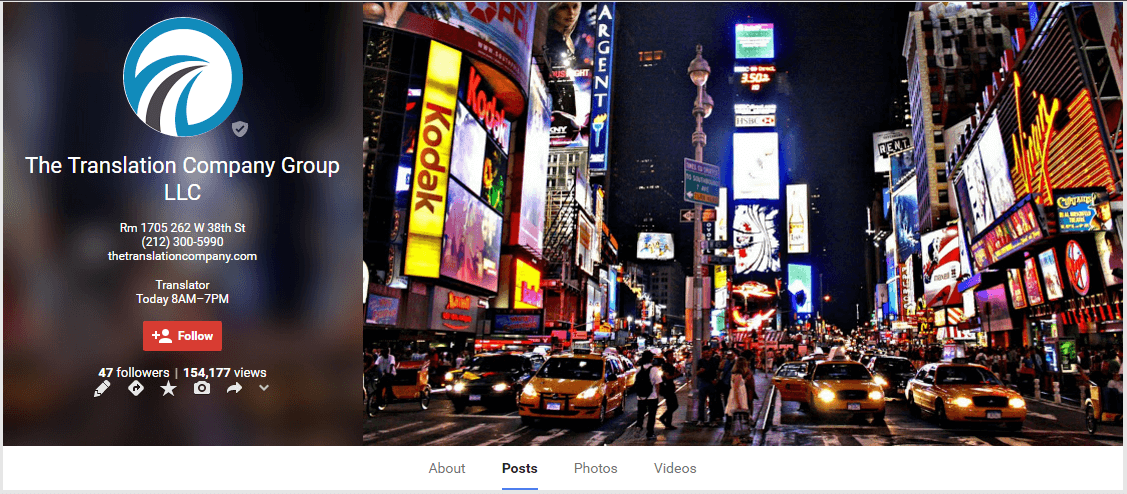 More reviews on our Google+ page
Easy Access to All Boroughs
Replacing a cordial handshake or a face-to-face meeting is hard to do. That is our goal and that is why our clients come back to us year after year. We are one of the most recognized New York translation companies because of our consistent quality and affordable translation services.
New York Office
262 W. 38th St., # 1705
New York, NY 10018
212.300.5990
sales@thetranslationcompany.com
Member of the American Translators Association
Many translation services hide behind their websites. Some companies say they are located in New York when they are not. Many offer no personalized or long-term translation service.
Of course, you share all your translation needs with us through email or by phone. However, we also offer the possibility of meeting you and your team to achieve a better understanding of your language translation needs. If your company is looking for a New York translation company that is available to provide translation services done right the first time, then you can choose The Translation Company with confidence.
One-stop Translation Services
The Translation Company offers diverse translation services, including legal translation, business translation, financial translation, and much more. What sets us apart from other New York translation services is our dedicated team of specialists who will handle your translation work accurately, efficiently, and until you are satisfied.
Depending on work, we offer our group of certified experts that will handle your translation work to ensure the most accurate translation results around. Not only do we employ native translators, but we also have highly trained editors, seasoned proofreaders, and industry-experienced project managers.
262 W 38TH ST RM 1705
New York, NY


Phone: 212-300-5990
We Serve All New York Neighborhoods
Our headquarters location was chosen with you in mind. The Translation Company is easily accessible by train, bus, and car, no matter where you are in New York City.
Uptown neighborhoods
Clients located in uptown Manhattan may reach us through the red, blue, green, and orange lines. The closest stop is the 42nd St stop from the blue line (A and C trains).
Upper Manhattan
Washington Heights
Harlem
Upper East Side
Carnegie Hill
Upper West Side
Midtown neighborhoods
Midtown locations are footsteps from our headquarters. Close to Penn Station, Port Authority, and Times Square, we are certainly in the heart of the Big Apple.
Midtown
Columbus Circle
Rockefeller Center
Diamond District
Theather District
Times Square
Garment District
Madison Square
Between Midtown and Downtown
These neighborhoods are also close to our headquarters. Clients will usually spend less than 15 minutes to reach us when traveling from these locations.
Chelsea
Flatiron District
Union Square
Meatpacking District
Downtown neighborhoods
As downtown is a bit farther from our location, express subway lines such as 2, 3 (red), and 4 and 5 (green) are recommended.
Downtown Manhattan
East Village
Greenwich Village
West Village
Lower East Side
SoHo
Lower Manhattan
TriBeCa
Battery Park City