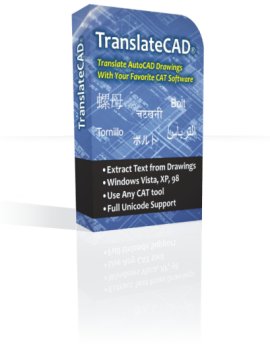 TranslateCAD
Features
Supported File Formats
It Extracts text from AutoCAD DXF drawings (Version 2000-2008) and prepares files to work with any CAT tool, and re-joins files to generate a target DXF translated file.
Operational System
Windows
Price
$ 29.95
Link
http://www.translationtospanish.com
Contact Information
TranslationToSpanish.com
– a Mexican Company
Sinaloa 321, Pirámides, Aguascalientes, Ags. CP.20277
Mexico
Phone: 011-52 (449) 448 6969 Fax: 011-52 (449) 913 7194
(then dial *51)
E-mail:
webmaster@translationtospanish.com
Editor Notes
TranslateCAD extracts the translatable text from any AutoCAD drawing, creating a plain-text file that you can translate using any CAT Tool, taking advantage of your
existing translation memories, glossaries, and even outsource the plain-text translation to other colleagues. Users have reported that it is easy to use and that the support is prompt, reliable and friendly.
Help & Support