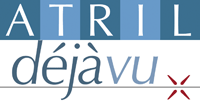 Déjà Vu X3
Features
Supported File Formats
Office Word, Excel and PowerPoint
Déjà Vu X3 has new Office filters that result in industry-leading import speed for Word, Excel and PowerPoint while considerably reducing the number of tags in the translation grid.
XLIFF
When preparing a XLIFF file with different tools, embedded HTML may result which would appear in the translation grid. The new XLF filter converts embedded HTML in tags, contributing to a neater translation environment.
XLIFF for SDLXLIFF
Import Trados Studio projects into Déjà Vu X3 more easily with the improved XLIFF filter.
YAML
This new human-readable data serialization format serialization format can now be imported directly into Déjà Vu X3.
Quicksilver
For improved handling of Quicksilver files use this updated filter.
Operational System
Windows XP, Windows 7, Windows 8
Price
Satellite: Free, Standard: €490, Pro: €990, Workgroup: €1490
Link
http://www.atril.com/
Contact Information
http://www.atril.com/content/contact-us
Editor Notes
LivePreview & Source ContextWith Déjà Vu X3's new Live Preview, you can follow your translationprogress within Office Word, Excel and PowerPoint files in real time.You do not even need to have Office installed!New and Exclusive to Déjà Vu is the multi-file Preview!Imagine working on a multi-file project with dozens or hundreds of files indifferent folders and subfolders. The Live Preview and Source Context willmake sure you keep control over your source and target files.For non-Office file formats, the Preview window shows the source context ofyour segment, extremely useful forlocalizationproject and IT related formats where important information on your file isdisplayed directly in Déjà Vu.Inline Formatting
– Apply formatting of your text directly through the ribbon or shortcutkeys which are consistent with those of Microsoft Office.
– Inline formatting also contributes to a considerable decrease in tagswithin the translation grid.
Inline Spell-checker
Déjà Vu X3's built-in spell checker, Hunspell, highlights spelling mistakesfor you. Right-click on the underlined word and choose the appropriatesolution from the available suggestions.
A total of 35 different dictionaries are at your disposal. Your language isnot included? Simply add your own or download available dictionaries toinclude them to your proofing options.
Help & Support