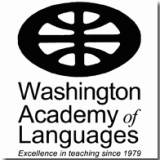 Washington Academy of Languages
Washington Academy of Languages
Undergraduate
Continuing Education
Graduate
Professional Studies
About the Program
Program Description
The Washington Academy of Languages is the oldest non-profit organization concerned with the promotion of foreign language learning in the Seattle area. Our faculty and staff are the best ambassadors of a comprehensive process of learning that goes beyond language and includes understanding and appreciating different cultures and societies.
Methodology and Objectives
The World Languages department uses an integrative approach to language learning. All skills(listening, speaking, reading and writing) are taught holistically and in an interactive manner.
Our goal is to teach our students to communicate effectively and correctly in order to reach a highlevel of proficiency. Our semi-intensive courses, taught in the target language, provide the perfectenvironment for acquiring a new language. Students focus on communicating first, and then developing grammatical form as their fluency increases.WAL
foreign language instructors have advanced degrees, extensive training and experience in language instruction and are conversant with current methods of teaching adults to acquire a second language. Optional university credit is available for most foreign language classes from our partner, Seattle Pacific University.
The Washington Academy of Languages offers courses in the following languages: Arabic, Chinese, French, German, Italian, Japanese, Korean, Russian, Spanish, Persian, Portuguese and Vietnamese. Other Languages – Washington Academy of Languages offers a variety of other language courses as professionally qualified instructors are available. These languages can be studied in Custom Programs or arranged for groups.
Costs
http://www.wal.org/wl/schedules/tuition.html
Editor notes
There used to be a Translation and Interpretation Institute at the Washington Academy of Languages, but it is not working anymore. In spite of not offering specific translation courses, translators have to start learning a language at some point, and it is still a good place for this purpose.
Link
http://www.wal.org/wl/index.html
Contact Information
Washington Academy of Languages
2 Nickerson St., Suite 201
Seattle, WA 98109
USA
Phone: 206-682-4463
Toll Free: 888-682-4463
Fax: 206-224-7927
Email: info@wal.org