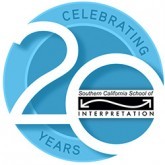 Southern California School of Interpretation
Southern California School of Interpretation
Undergraduate
Continuing Education
Graduate
Professional Studies
About the Program
Program Description
Southern California School of Interpretation offers interpreting programs in Federal, Court, Medical, Administrative Hearings and Telephonic interpretation as well as continuing education courses for professional interpreters. Training for bilingual employees working in hospitals, school districts, law enforcement and gubernamental entities are also offered.
The School holds the highest pass rate of certified interpreters in California and it is the leading interpreting school in California recognized as the school with the highest pass rate of Court, Medical and Administrative Hearings certified interpreters. The School has the highest pass rate of Federal certified interpreters.
Interpreting Programs offered by the Southern California School of Interpretation:
Court Interpreting Program
Federal Interpreting Program
Medical Interpreting Program
Administrative Hearings Interpreting Program
Telephonic Interpreting Program
Interpreting for School Districts
Interpreting for Police Officers
Civil Interpreting Program
Title VI Interpreting Program for Bilingual HospitalEmployees Continuing Education for Professional Interpreters
Seminars
Interpreting Programs Tailored to your Organization
Costs
Tuitions for each course of each program range from $198 to $545.
Editor notes
SCSI specializes in preparing fully bilingual individuals in Spanish and English for the State interpreter certification examinations.
Currently, 85% of the candidates who become certified interpreters in the state of California, are graduates of our program. There are also courses to prepare individuals for the Federal Court interpreter certification examinations.
Link
www.interpreting.com
Contact Information
10012 Norwalk Blvd. Suite 120
Santa Fe Springs, CA 90670
Phone (562) 906 9787
Fax (562) 906 – 9780
e-mail: info@interpreting.com