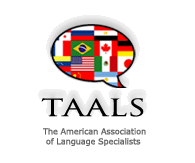 TAALS – The American Association of Language Specialists
Features
TAALS is the professional association based in the Americas that represents language specialists working at the international level, either at conferences or in permanent organizations, and determines their qualifications and standards.
Founded in Washington, DC, in 1957, the Association today has members based in ten countries of the Western Hemisphere (Argentina, Brazil, Canada, Chile, Costa Rica, Honduras, Mexico, Nicaragua, Trinidad-and Tobago, the United States and Venezuela). It also includes members in Asia (China, Japan and Malaysia), Europe (France, Germany, Italy, Spain and Switzerland) and Australia.
Most TAALS members work on a freelance basis, while some are permanently employed by international organizations and government agencies.
Benefits
Membership in TAALS is regulated by sponsorship from established members and adherence to strict criteria of ethics, professionalism and quality. It indicates a high standard of performance and respect of the Standards of Professional Practice for Conference Interpreters and Translators in the languages classified in the Association's Yearbook. The Association offers a number of benefits such as training seminars by top professionals in the field.
As a professional association, TAALS is not affiliated with, nor does it endorse or recommend, any agency or language service provider.
Membership
All qualified conference-level language specialists are eligible for membership. Applications are reviewed twice a year. Applications for the first cycle of admissions are accepted up to February 15and applications for the second cycle are accepted up to September 15 of each year. Decisions on all applications are made by the General Assembly upon recommendation of Council.
Contact Information
TAALS – The American Association of Language Specialists
3051 Idaho Avenue, N.W. #425
Washington DC 20016