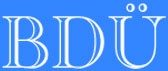 BDÜ – German Federal Association of Interpreters and Translators
Features
The Federal Association of Interpreters and Translators (Bundesverband der Dolmetscher und ?bersetzer e.V. (BDU)) is Germany's largest association representing professional linguists. With more than 6,000 members, the BDU represents 75% of all professionally organized translators and interpreters in Germany.
Membership of the BDU is a sure mark of quality: all potential members have to present evidence of their professional qualifications before they can join the
Association. This offers an additional safeguard for clients commissioning linguistic services and enhances the professional standing of BDU members.
The Association publishes the MD, Germany's most widely circulated professional journal for interpreters and translators. BDU members receive this journal free of charge and can also attend the Association's professional development events (click on Seminars for further information) at particularly favorable rates.
Benefits
– Reduced attendance fees for the BDU's professional development events
– Free subscription to the professional journal MD? (five issues per year)
– Advertising your services through the BDU's web-based Membership
– Databank and BDU membership directories sent to public authorities and commercial enterprises
– Contact with professional colleagues by attending the BDU's local meetings for interpreters and translators
– Attractive group insurance contracts
– Business start-up advisory services
– Representation of your professional interests to legislative, judicial and public authorities and the top-level bodies of trade and industry.
Membership
Contact the association for prices.
Contact Information
BDU – German Federal Association of Interpreters and Translators Bundesgeschuftsstelle
Kurfurstendamm 170
10707 Berlin
Tel.: 030 8871 28 30
Fax: 030 8871 28 40
E-Mail: bgs@bdue.de