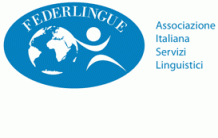 Federlingue – Italian Association of Linguistic Services
Features
FEDERLINGUE represents Italian providers of linguistic services such as translation, interpreting, language training, localization, internationalization and related services. It is a 'language center" that combines all activities of the sector.
Founded in 1996 in Milan as a group of provincial centers, Federlingue is today part of the Italian Chamber of Commerce and of the National Federation of the category.
It represents the whole national territory, and for all intents and purposes, the association is a reference in the field of linguistic services.
The website is not offered in English.
Benefits
Operational tools available to members:
- The Code of Ethics (approved by the Chamber of Commerce of Milan)
- Terms for Customers (approved by the Chamber of Commerce of Milan)
- General Conditions for Providing Language Services
- Statistics on the market for Language Services
Membership
Contact the association for information on membership costs.
Contact Information
Italian Association of Linguistic Services
Via Vivaio, 11 - 20122 MILANO
Phone: 027788401
Fax: 0277884063
Email: federlingue@unione.milano.it - federlingue@confcommercio.it