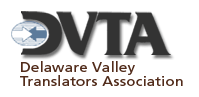 DVTA – Delaware Valley Translators Association
DVTA - Delaware Valley Translators Association
Features
DVTA was organized as a nonprofit association in the early 1960s by translators working in the Greater Philadelphia area who were affiliated with the American Translators Association. It continues to work closely with the national organization as an ATA Chapter.
DVTA is dedicated to improving communications among translators and interpreters, and those interested in these fields, as part of an on-going program to promote the highest professional standards.
DVTA serves as a clearinghouse for information on literature and new developments concerning translation and interpretation. The association provides a forum for members to hear formal presentations and discuss current topics in the profession.
DVTA acts as a regional talent bank for individuals, business and industry seeking assistance with translation and interpretation. Active members of the association are experienced professional translators and interpreters in most of the world's major languages and specialties.
Benefits
Your membership in DVTA gives you the opportunity to:
– Network with local professionals for local jobs
– Attend quality workshops and educational seminars
– Share experiences on the DVTA members-only listserv
– Market your services in DVTA?s online directory
– Meet fellow professionals for face-to-face problem-solving
Membership
$30 Active membership
$20 Associate membership
$50 Corporate and Institutional membership
Contact Information
DVTA – Delaware Valley Translators Association
606 John Anthony Drive
West Chester, PA 19382-7191
Phone: 215-222-0955
E-mail: president@dvta.org