Certified Spanish Translation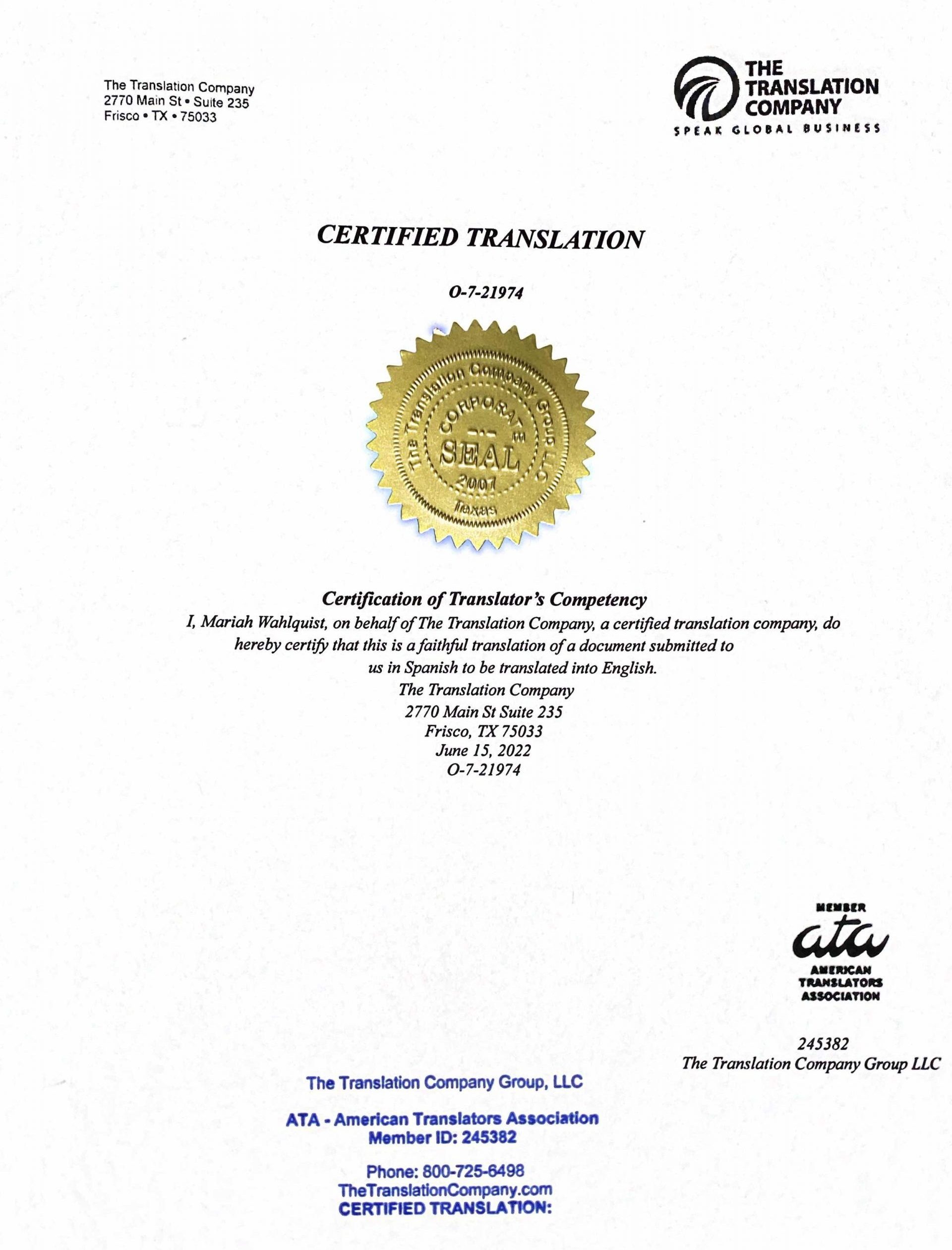 Get the Job Done Right with 100% Acceptance
For a company to provide certified Spanish translation it means they need to employ certified translators and implement certification standards. With the appropriate communication, grammar, language skills, and translation results, Spanish translation services can work wonders for whatever purpose to might need.
Everyday clients from all over the world trust their translation needs to The Translation Company. These are many kinds of documents that we have been providing certified Spanish translations for over the years. Here is a sample list of such documents.
Certified Spanish Translation Document Examples
Agreements & Reports
Business Forms
Court Rulings

Real Estate & Leases
Sales Contracts
Trademarks & Copyrights
Certified Spanish Translation
Certified Spanish translation comes in all different varieties. The legal industry requires accurate and stringent translations of legal documents. The Spanish court system expects translated documents to appear in court to be  certified by Spanish translators who are registered with the Spanish Ministry. The translator will then be taken under oath for the legal translations that are presented to assure that they are accurate and honest.
For Spanish translation services to be used in U.S. courts, it is mandatory for the translator to submit translations to the State Court in order to be pre-certified, which then approves them and their documents. Affidavits must all be submitted to ensure that the Spanish document is translated accurately and completely in relation to the original document.
In case the document is to be submitted in the UK court system, the certified translator has to take an oath and submit an affidavit in every case when their translated documents must be exhibited in court. Thus; the certified Spanish translation has different formalities in differing courts. In some cases a statement saying that the translation done is accurate and complete, as compared to the source document, and on the letterhead of the translator with a seal can also certify the translation.
Peace of Mind with Our Certified Spanish Translation
Our professional team of translators gives us the advantage to guarantee you a complete and professional translation within a strict deadline. When you choose The Translation Company to be your translation service provider, you are sure to receive our full and personalized attention. According to our professional ethics, a language expert always checks linguistic style issues, spelling and grammar. Your project goes through strict editing and reviews to make sure we are delivering the best work possible. Our certified Spanish translation team can be trusted, our worldwide clients can attest.
 Translation time:
 Average of 2-3 days
 Delivery time:
 1 - 2 days by FedEx Express  Acceptance Rate:
 100% Guaranteed!